BlackBerry Classic and Passport phones officially displayed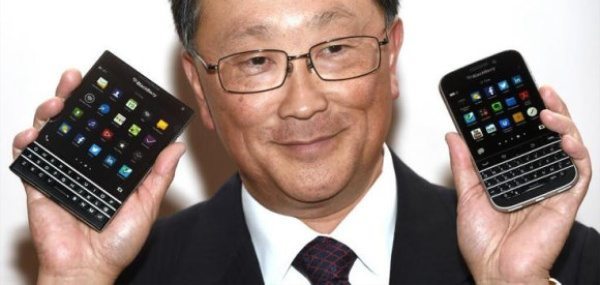 Two new BlackBerry smartphones have been officially introduced today. Both of these devices will release later this year and their names are the BlackBerry Classic and the BlackBerry Passport. They have been unveiled by BlackBerry CEO John Chen who looked pretty pleased with the new handsets.
Chen previously stated that future BlackBerry devices are largely likely to have the popular QWERTY keyboards that are much loved by BlackBerry users and that is certainly the case with these two newly revealed phones. We'll begin with some details on the BlackBerry Classic phone.
Back in April we reported that the Classic would be the name of a device previously referred to as the BlackBerry Q20 and said to be an enhanced version of the BlackBerry Bold. Tying in with earlier rumors the Classic turns out to have a physical QWERTY keyboard. It also has a 3.5-inch display and optical trackpad and is heading for a release in November.
The other newly revealed phone is the BlackBerry Passport and this one has a square 4.5-inch display with resolution of 1440 x 1440 and a three-row QWERTY keyboard. The phone appears strangely broad for a display of this size with the screen itself being around 81mm wide.
There's not too much news yet on further specs of this device although it's thought to have an improved processor to the Snapdragon S4 Pro that was used in the BlackBerry Z30, possibly a Qualcomm Snapdragon 800 CPU. The launch of the BlackBerry Passport is expected in September.
You can see plenty more images of these phones at the source below. What are your first thoughts about the BlackBerry Classic and BlackBerry Passport phones, and in particular the designs of these handsets?
Sources: CrackBerry AND TechCrunch
Via: GSMArena