OnePlus One unboxing video with overview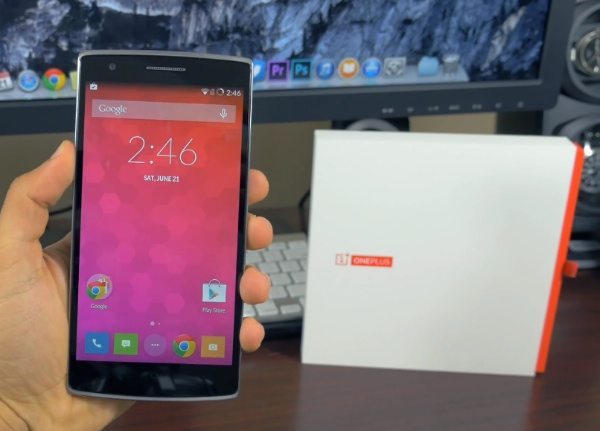 The OnePlus One smartphone was hugely talked about among Android device enthusiasts in the run-up to its official unveiling in April. It has many top-flight specs with very reasonable pricing although it is taking some time to arrive for most regions of the world and is pretty hard to come by. However, today we have a video to share that shows a OnePlus One unboxing with overview.
We've already written many articles on the OnePlus One and these include comparisons with other smartphones, reviews, accessories and much more, so if you want to check those out you can see them at this link. One of the reasons why this device has huge appeal and has been described as a 'killer phone' is that it runs Android 4.4 KitKat with CyanogenMod 11S. After several delays the guys over at Phone Dog have now managed to get their hands on the OnePlus One.
The YouTube video that you can view below this story shows their unboxing and initial impressions about the OnePlus One. The video begins with an introduction giving some background information about how the OnePlus One came about, and just why it appeals to many people who might otherwise be looking forward to the Nexus 6.
It then proceeds with the unboxing and it's interesting that the charger for the OnePlus One actually comes in a separate box due to its rather large size. We have to say that the packaging looks pretty sleek and nicely intriguing and the phone when it's revealed looks beautiful. The handset shown is the 64GB model in Sandstone Black which has a $349 price tag, and the reviewer seems pretty bowled over with its appearance although states that the backing feels "weird."
The video then shows the other contents of the box before moving on to look more closely at the handset. There's a nice overview of the device with specs details and you'll then see the OnePlus One being powered up before a tour of the hardware, which offers some good close-up looks at the design and build.
Looking at the video we have to say this appears to be a very attractive handset with plenty to recommend it, and after you've watched it we'd love to hear your first thoughts. Are you eagerly waiting to get your hands on the OnePlus One?