2014 Tour de France route by iOS app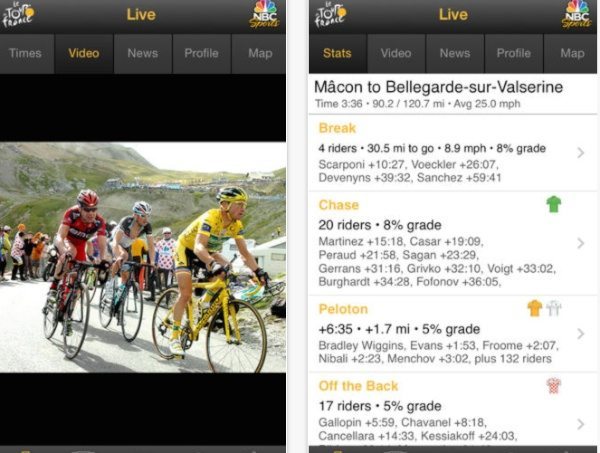 The Tour de France 2014 is now well underway and this great sporting spectacle is attracting a huge amount of interest. Thousands of people have been lining the route to watch the riders go by, or watching the action on TV, and are interested to find out more about tracking the route. With that in mind we have details of how to follow the 2014 Tour de France route by iOS app to enhance your enjoyment of the event.
We have two suggestions for you and the first is the SBS Tour de France Skoda Tour Tracker 2014. This is a free Tour de France route iPhone app that is also compatible with iPod and iPads running iOS 5.1 or later. It will enable users to track Le Tour with GPS tracking on interactive maps, breaks, chases and time gaps on the roads, live video stream coverage of each stage, analysis, text updates, and profiles. The app also offers daily results and overall standings, video recaps, previews of the next stages, team and rider listings, and details of KOM and Sprint lines. You can download it from iTunes here.
The second app we have for you to consider is the NBC Sports Tour de France Live 2014. This one is priced at $14.99 and is compatible with iPhone, iPod touch and iPad running iOS 6.0 or later. Every stage is streamed live to your iOS device, and you can track the 2014 Tour de France route in real-time with interactive maps. The app also offers full stage replays, short-form video on-demand clips, results and standings, rider profiles, stage maps and descriptions, news and interviews, photos and TDF Twitter Stream. The app can be synced to your other Apple devices with one purchase. However, video is only available for the US and some US territories. For more details or to download this app head to iTunes here.
There's plenty of action still to come in the 101st annual Tour de France that runs to July 27th, so will you be using one of these apps to optimize your experience of this sporting event? Drop us your comments in the box below.