Sony Xperia Z3 and Lens Camera confirmed through IFA 2014 Invite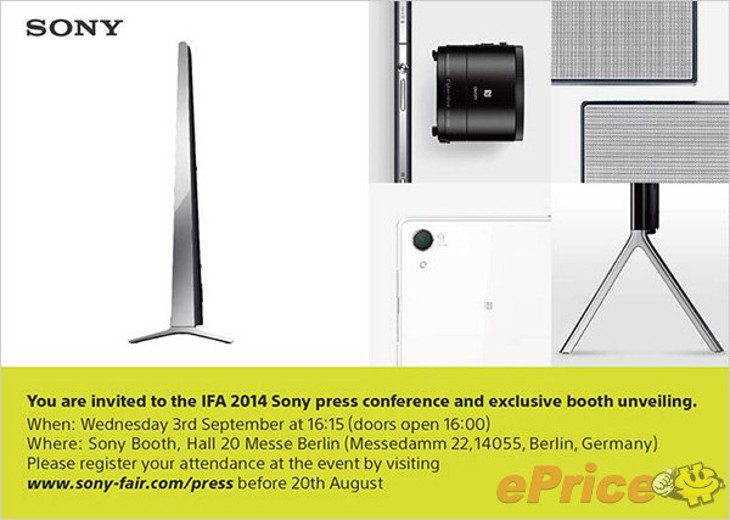 We've seen a number of invites go out this week for events at IFA 2014 next month, and you can now add Sony to that list. One of their invites hit the web last night, and it gave us an idea of what the company is bringing to Berlin. Ready to meet the Xperia Z3?
ePrice leaked the invite, and it appears as if Sony will kick things off on September 3rd in Berlin at 4:15. The invitation shows several of the devices, but you can't make enough of them out to really know what the company has planned. It's safe to say, we'll see the Xperia Z3 along with new lens camera, and possibly a monitor or all-in-one system.
There isn't enough shown to deduce if the handset in the photo is indeed the Xperia Z3, but we know it's in the pipeline along with the Xperia Z3 compact. We've heard rumors of a Z3 tablet as well, but no slates were appeared on the invitation. That doesn't mean they won't show it, but we may not see it hit the streets Christmas time or early 2015 if they do.
We're less than a month away from the big day, and one can only assume that we'll see a few more Sony leaks before IFA 2014 rolls around. It's going to be an exciting time for tech enthusiasts, and we'll be here to give you the lowdown in September.
Via – Xperiablog