New Samsung Galaxy Alpha Leak confirms the specs and launch window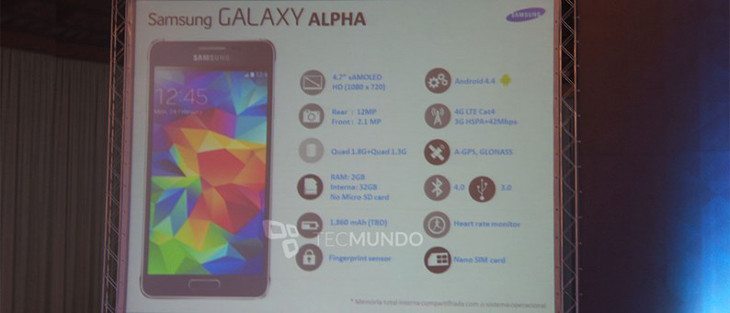 Samsung is about the least secretive smartphone manufacturer on the planet, and today we've gotten word of another Samsung Galaxy Alpha leak. This time around it involves the specs, and it appears to come from official marketing material.
Techmundo has obtained a photo that shows marketing material for the incoming Galaxy Alpha. The specs shown line up with everything we already knew about the device which means it will have a smaller 4.7-inch 720p display. Sorry QHD lovers, you'll have to wait for the Galaxy Note 4.
The rest of the Samsung Galaxy Alpha leak includes an Exynos octa-core chip clocked at 1.8GHz and 1.3GHz, 2GB of RAM and 32GB of storage. Unfortunately, there will not be an SDcard slot, so you'll have to roll with the cloud. While they killed the expandable storage, Sammy added a Hear rate monitor and fingerprint sensor along with a 12MP/2.1MP camera combo. The battery is shown as 1860mAh but says that has yet to be determined.
The site goes on to say that the Samsung Galaxy Alpha will be unveiled in the second half of August, but no later than the beginning of September. The price is said to be around R$2,399, and they expect the Alpha to hit the streets in Brazil sometime in October. Again, all this fits perfectly with everything else we've heard on the device, so it's just a matter of Samsung making it official and setting the price and release dates.
Are you excited to get your hands on the Samsung Galaxy Alpha?
Via – SamMobile