Samsung SM-W2015 specs show up on Benchmarking Site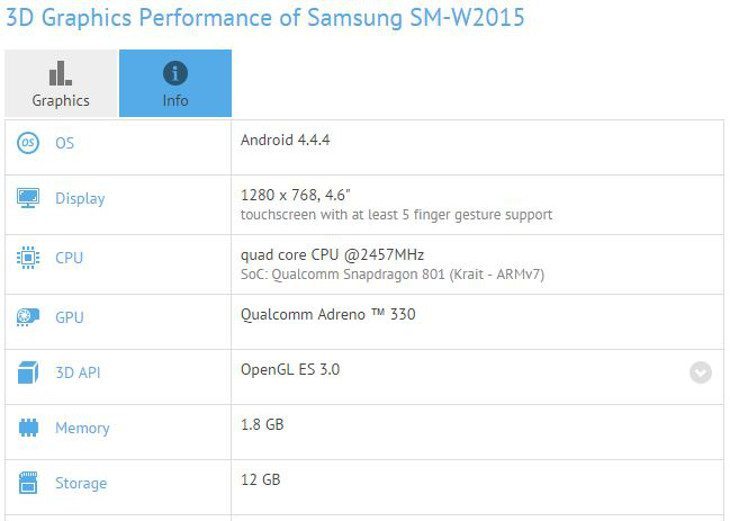 Benchmark sites are a great way to learn about upcoming smartphones, and a new one from Samsung has just shown up. It's known as the Samsung SM-W2015, and it's the follow-up to last year's dual-screen folding phone from Sammy.
The Samsung SM-W2015 specs have been listed on the popular Benchmarking site GFXBench, and it shows another flip phone which may not sound all that exciting at first. Once you take a look under the hood, you're opinion may change as it's a beastly little device with dual displays.
Sammy's new flip phone will have dual 4.6-inch display with resolutions of 1280 x 768. As it's a flip phone, you'll have the inner screen and an outer screen so you're never out of the loop when it comes to notifications, emails and the like. The SM-W2015 specs show a Snapdragon 801, 2GB of RAM, and 16GB of storage. The rear camera is listed as a 16MP snapper while the front-facing camera clocks in at 2MP. The battery size isn't given, but all the usual bells & whistles are present including NFC, GPS, Wi-Fi and a variety of sensors.
Like the previous model, it's unlikely that we'll see the Samsung SM-W2015 in the states or the UK, but stranger things have happened. There are a lot of people that still dig the old clamshell design, and it could prove popular if it ever makes it past the borders of its homeland.
Would you be interested in seeing a dual-screen flip phone come to your region?
via – blog of mobile