Microsoft Smartwatch concept looks pretty good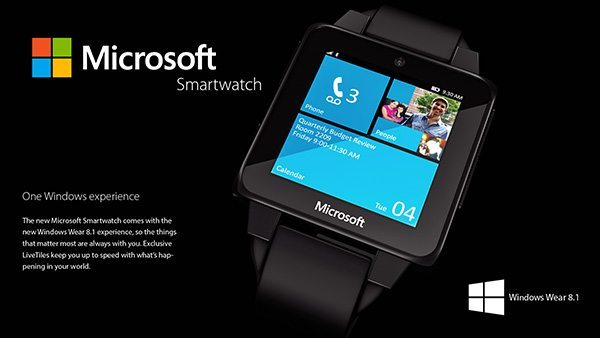 If you're following the industry — and chances are you do, since you're reading this — you know that the Apple Watch is official, joining several Android Wear (for Google-powered smart watches), and other smart wearable timepieces (like some Tizen-powered Samsung devices, or the Pebble). However, two out of the three major players are already on the market: Apple and Google. There's no concrete word on Microsoft's plans (except rumors, reports, and wishful thinking), but the Redmond-based company is the last behemoth that has not yet joined the smart watch game.
When exactly will the Microsoft Smartwatch be released (if, though it's pretty safe to assume that it's coming) is unknown, but that doesn't stop people from continuing in their wishful thinking, some going as far as creating concepts, like the one we're looking at today.
As you can see in the image attached (you can find more at the source link below), the Microsoft Smartwatch in this concept looks pretty cool. It is squared, and its physical shape goes well with the live tiles displayed on the screen. Talking about the live tiles, these look similar to those found on Windows Phone, but the smart watch in this concept is powered by "Microsoft Wear 8.1" (obviously, a fictitious name for the sake of this concept).
Several color options are available, as imagined by the creators of these renders, and hardware-wise the gadget is imagined with a front-facing camera for selfies, and possibly Skype calls, while software-wise Cortana from Windows Phone 8.1 is playing a key role in the user experience.
Voice calls are also supported on this concept Microsoft smartwach; one of the slides emphasizes on the fact that the user does not need to reach for the phone for placing or answering a phone. However, it is not detailed how these calls would be handled: we've so far seen two different approaches (both from Samsung), where, in the first case, the smart watch has both a speaker and a microphone, so the calls can be made with the watch itself, and, in the second case, with the help of a bluetooth headset accessory to the watch (think of it as an accessory to an accessory),
Since this is a concept, you need to treat it accordingly. Images and information is imagined, fictitious, and, as such, you can feel free to let us know in the comments of how you would imagine Redmond's take on the smart wearable timepiece.
Source: Die-Smartwatch.de
Via: GdgtArena