Samsung Galaxy Golden 2 hits TENNA with dual 3.9-inch displays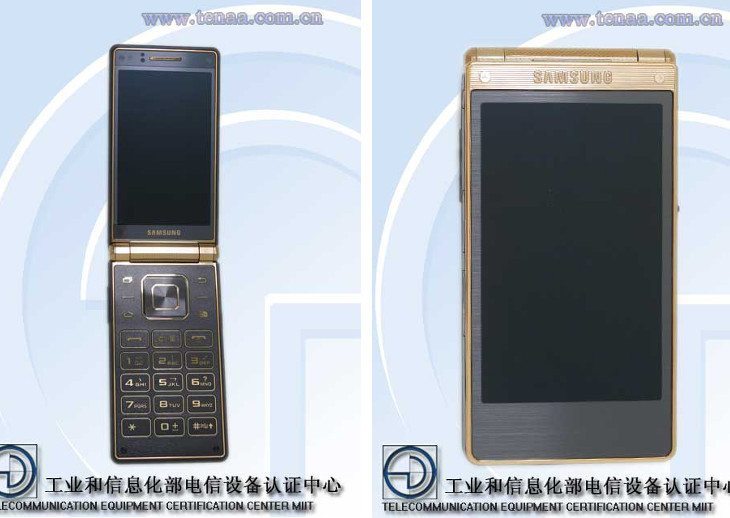 Last week, we talked briefly about the Samsung Galaxy Golden 2, a flip phone follow up to a device of the same name. Today, we got our first look at the dual-screen device as it's just made its way through TENAA.
There have been a slew of devices going through TENAA lately, including the funky Doov V1 with its flip camera. The Samsung Galaxy Golden 2 is also a flip device, but it's in clamshell form as Sammy has brought the famous flip phone device back for another go. As you can see from the photos, the Galaxy Golden 2 isn't your typical flip phone.
The Samsung Galaxy Golden 2 features two screens, and both are of the 3.9-inch 720p variety. It may seem a little "niche" until you consider the fact that the device has a 2.5GHz Snapdragon 801, 2GB of RAM and 16GB of expandable storage. Throw in a 16MP rear snapper, 3.7MP front-facing sensor, and Android 4.4, and you've got yourself a flagshipy device.
As with most of the strange device we see, and anything that passes through TENAA, there's a good chance the Samsung Galaxy Golden 2 will stay in its homeland once it is released. That said, you can always snag one through a third-party retailer if you're impressed with Sammy's new flip phone.
Would you consider a flip phone with these specs or are you happy with the modern designs of today?
via – SamMobile   Source: TENAA