iPhone 6 vs Xiaomi Mi4, brand vs value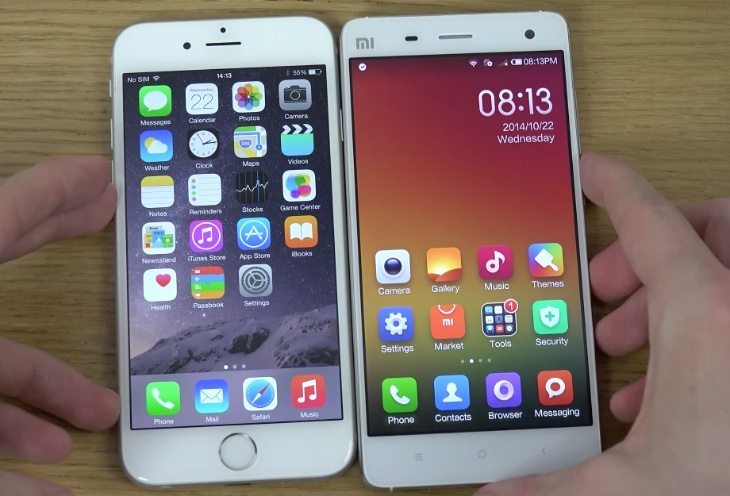 The iPhone 6 is making its way into the hands of consumers around the world and is bound to be another big success for Apple. A not so well known brand outside China is Xiaomi, although the company has recently been coming up with some very decent affordably priced handsets and recently released the Mi4. Today we have a comparison video of the iPhone 6 vs. Xiaomi Mi4 in brand vs. value.
The new iPhone 6 released on iOS 8, now upgradable to iOS 8.1, while the Xiaomi Mi4 runs the Android 4.4.3 KitKat operating system skinned with Xiaomi's MIUI 5.0. Therefore if you have a strong preference for iOS or Android devices, any decision between these two will be a lot easier. However, for those open to either operating platform, choosing between them will be more difficult.
Below this article we've embedded a YouTube video showing a comparison of the iPhone 6 and Xiaomi Mi4, and this will give you a good idea of what they each have to offer and some useful insight. It begins by noting that the Xiaomi Mi4 is only around half the price of the iPhone 6, a factor that should play a big part in a choice between them after considering specs and more.

It continues by asking how much more you get with the iPhone 6 over the Xiaomi handset, and the comparison goes on to show the designs of the phones, giving some good close-up looks of the handsets. Specs and features of the phones are also discussed, with aspects covered including the displays, cameras, processors, batteries, and more.
Once you've viewed the video we'd be interested to hear your thoughts on these two phones. Will your choice be the popular iPhone 6 with the Apple name behind it or the much cheaper Xiaomi Mi4? Send us your comments on this