CES 2015: Alcatel unleashes a Trio of new Alcatel POP smartphones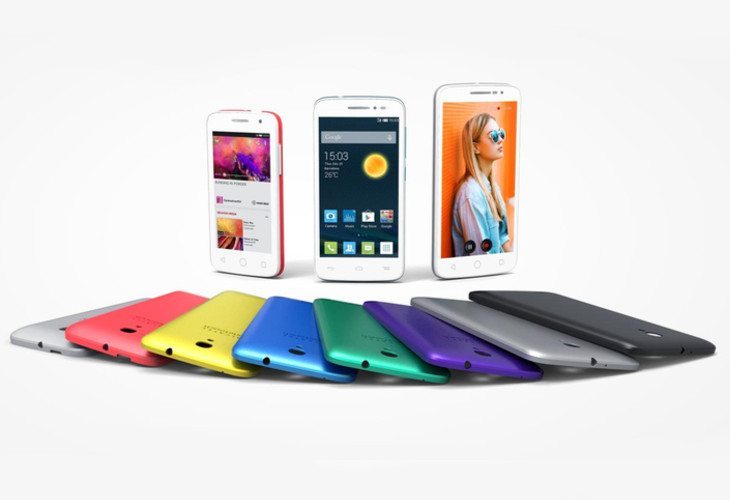 The Alcatel POP line is extensive, and the company has just added several new devices to its ranks today at CES 2015. They have unleashed a new 10-inch slab with the Alcatel POP 10, and we have three new smartphones to take a look at as well. Ready to meet the new members of Alcatel's POP family?
We're going to start with the smartphones, and all three have the new 64-bit Snapdragon chips under the hood. The 5-inch Alcatel POP 2 will sport a 720p display with an 8MP/2MP camera combo and 4G LTE connectivity. It has a 2,500mAh battery, runs Android Lollipop, and will have Flip Covers at launch.
The Alcatel POP 2 4.5 comes with an FWVGA display and a 2,000mAh battery. The rear camera is listed at 5MP with an LED flash and zoom, while the front-facing snapper is a VGA unit. Other features to note include Cat 4 LTE, WiFi display, and a dual-SIM variant. The POP 4.5 will run Android 4.4 and has color and flip covers listed as accessories. Last up, is the diminutive 4-inch POP 2 with its WVGA display. Other than that, it appears to be the same as its 4.5-inch brother.
On the tablet side of things is the Alcatel POP 10. It has a 10-inch display of an unknown resolution and is fairly skinny at 7.9mm and 400grams. Details are light on the slate,, but we know it will have a 5MP rear camera, 2MP selfie snapper, and a quad-core SoC. The storage is listed at 8GB and it will be LTE compatible. Accessories mentioned for the POP 10 include a covers, pouches, a docking station, and keyboard.
The new Alcatel POP lineup has a little something for everyone, and while the specs are a bit vague, we expect the prices to be low. There has been no word on the smartphones or tablets release date at this time, but we expect to learn more soon.
What do you think about the new POP smartphones and the slate?