New Samsung Galaxy J1 photos give us a look at Samsung's new budget line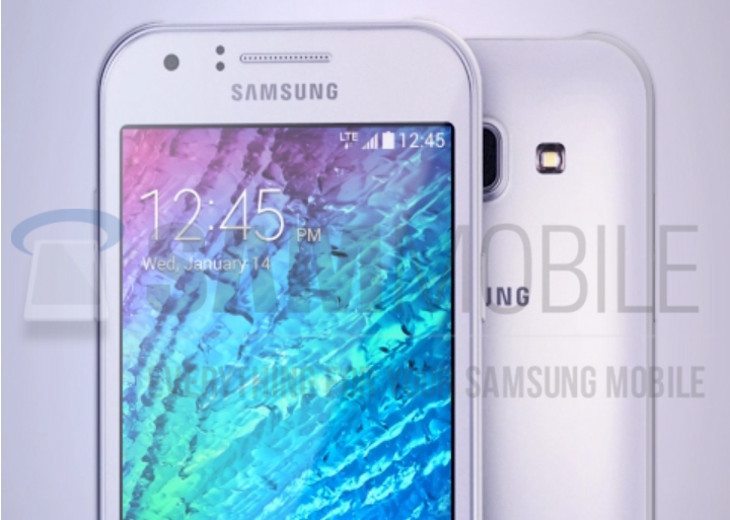 Remember that low-end Samsung Galaxy J1 we told you about last month? It's been quite on the "J series" front since that time, but that changed today as we've just gotten our first look at the handset through a series of newly leaked Samsung Galaxy J1 photos.
SamMobile told us about the Galaxy J1, and they've managed to obtain a photo of the mysterious budget device today. The photos appear to come from marketing material, and show a smartphone that definitely looks like a Samsung device. It has rounded edges and a chrome strip of sorts around the sides to go along with the usual array of sensors. It's not unique, but it should be extremely cheap.
The Galaxy J1 will sport a small 4.3-inch display with a resolution of 480 x 800, and it gets its power from a quad-core Marvell chip clocked at 1.2GHz. The rest of the specs include 1GB of RAM, 4GB of expandable storage, and a 1,850mAh battery. The device will have a camera combo of the 5MP/2MP variety, and will run Android KitKat 4.4. The Galaxy J1 photos also show us that it will have some handy features built-in like Palm Selfie and Ultra Power Saving Mode.
We're still not sure when the Samsung Galaxy J1 will arrive, but you'll be able to choose from single and dual SIM versions that have 3G connectivity. The Samsung J Series should be Sammy's new low-end lineup for 2015, so it will be interesting to see if they roll out handsets in different sizes from this lineup as well.
Are you interested in the Samsung Galaxy J1 price or are the specs just too low?
source: SamMobile