Galaxy A5 vs Galaxy Alpha concise review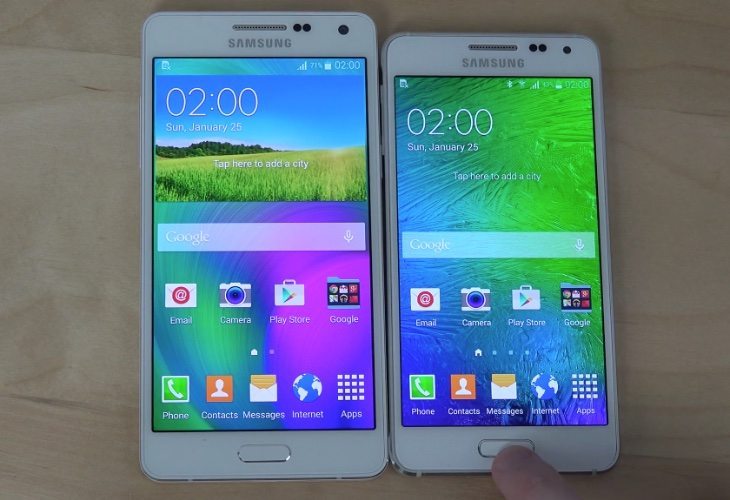 When the Samsung Galaxy Alpha released last September it attracted plenty of interest due to its metallic frame. The Galaxy A5 followed in December with some specs similarities but also some differences, and it could be a hard task choosing between them for some people. Today we're sharing a video of the Samsung Galaxy A5 vs. Galaxy Alpha in a brief review.
We'll run through some of the key specs before we begin, starting with the Galaxy A5. It has a 1.2GHz Snapdragon 410 quad-core processor, a 5-inch display with resolution of 1280 x 720, 2GB of RAM, and 16GB of internal storage that's expandable via microSD to 64GB. There's a 13-megapixel rear camera, 5-megapixel front-facing unit, and non-removable 2300 mAh battery, and it runs the Android 4.4.4 KitKat operating system.
Now for the Samsung Galaxy Alpha and this handset is powered by an Exynos octa-core processor (4 cores at 1.8GHz and 4 at 1.3GHz). It has a 4.7-inch display with 1280 x 720 resolution, 2GB of RAM, and 32GB of internal storage (non-expandable). It has a 12-megapixel rear camera, 2.1-megapixel front-facing snapper and a removable 1860 mAh battery, and it runs Android 4.4.4 KitKat with an upgrade to Android 5.0 Lollipop in the pipeline.
If you scroll down below this article you'll come to a YouTube video comparison of these two smartphones, and this will give you a look at the two devices and hopefully an idea of which might be the best option for you. It concentrates on showing the good and bad points of each and starts with a look at the designs. This gives an opportunity to see the handsets from various angles before the video moves on to the internals and how they vary.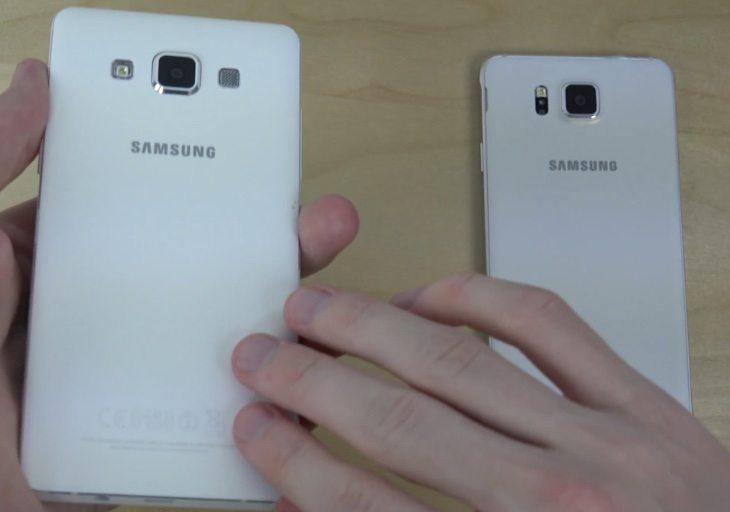 Further aspects covered before the conclusion are the cameras and batteries. Finally the reviewer wraps up by saying that those who enjoy smartphone gaming and who prefer a removable back might favour the Galaxy Alpha. On the other hand those who want better camera capabilities and a larger display might be best opting for the Galaxy A5.
If you want to know more about both of these handsets you can see our previous articles on the Galaxy Alpha here. Alternatively see more on the Galaxy A5 here. These include a recent bootup test of the Galaxy A5 vs. iPhone 6 as well as battery life testing of the A5 vs. Micromax Yu Yureka and Redmi Note 4G.
After you've watched the video review below it would be interesting to hear your verdicts on these two smartphones. Will you pick the Samsung Galaxy A5 or the Galaxy Alpha? Let us know with your comments.