Alcatel 6045 One Touch gets benchmarked with 64-bit SoC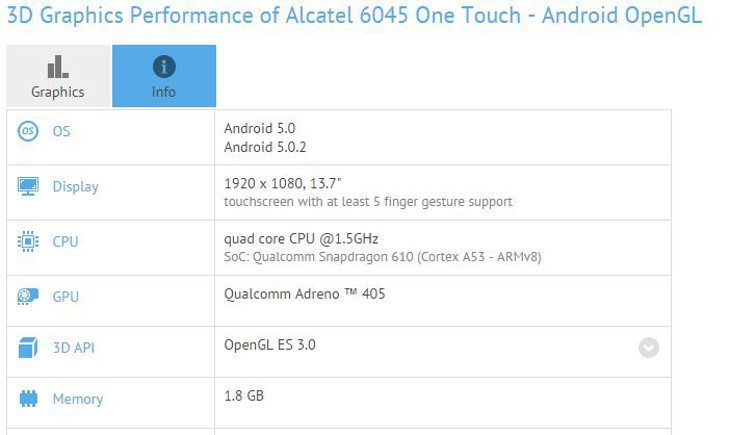 Another week, another new smartphone with a 64-bit chip. The 64-bit mobile age has officially begun, and Alcatel is getting in on the action with a new handset called the Alcatel 6045 One Touch.
The Alcatel 6045 One Touch has shown up on GFXBench, and it's brought a new 64-bit chip along for the ride. The specs show a solid handset with plenty of pop, and one possible error in regards to the display. The device is listed as having a 13.7-inch panel with a resolution of 1,920 x 1,080.  While it "could" be possible, it's most likely an error as that's just too out there.
The rest of the Alcatel 6045 One Touch specs include a speedy 64-bit Snapdragon 610 which is backed by 2GB of RAM. The storage space is listed at 8GB, and you'll get a 12MP snapper on the back to go along with a 7MP camera on the front. That's about all we know at the moment aside from the fact the phone was being testing with Android 5.0.2.
The Alcatel 6045 One Touch is a bit of a mystery at this point, but a nice surprise nonetheless as the company is known for cranking out budget handsets. The Alcatel 6045 One Touch specs show it doesn't fall into that category, so now we'll just have to wait to find out the handset's price. Stay tuned, and we'll keep you in the loop on the Alcatel 6045 One Touch and the rest of Alcatel's gadgets as we approach MWC.
via - UberGizmo   source: GFXBench