Microsoft Lumia 532 battery life tested and compared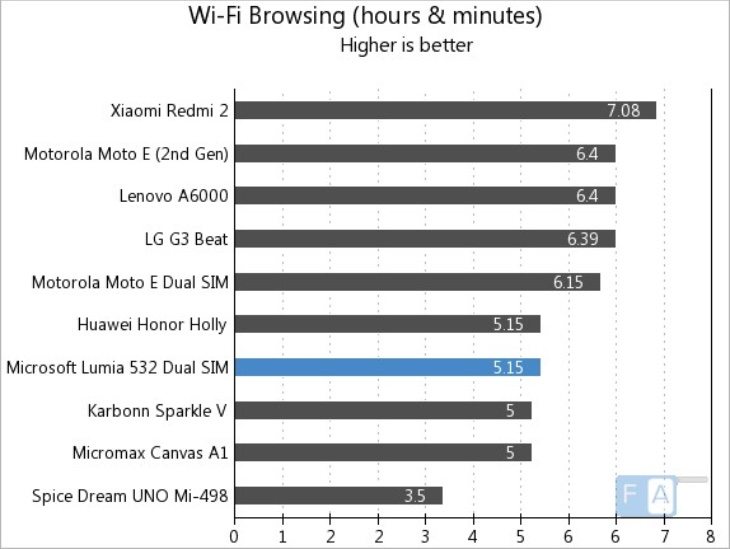 The Microsoft Lumia 532 released in February in both single SIM and dual SIM versions. It's a budget handset that is attracting plenty of interest and is likely to attract plenty of potential buyers over the coming months. Battery life is an increasingly important factor for many people purchasing a new smartphone, so today we're considering the Microsoft Lumia 532 battery life, which has been tested and compared.
Key specs of the Lumia 532 include a 1.2GHz Snapdragon 200 quad-core processor, a 4-inch display with resolution of 800 x 480, 1GB of RAM, and 8GB of internal storage (expandable). It has a removable 1560 mAh battery and that doesn't sound too sizeable, so it will be interesting to see how it stands up against many of the handsets that it will chiefly compete against.
The battery life of the Lumia 532 Dual SIM model has been tested looking at a number of categories. These are Talk Time, 3G Browsing, WiFi Browsing, and Video Playback. The results have then been placed into chart form so that you can see how the times compare against 9 other devices. Just a few of these are the Moto E 2nd gen, Xiaomi Redmi 2, Lenovo A6000, and Micromax Canvas A1.
For TalkTime the Lumia 532 managed a time of 14 hours and 9 minutes, placing it around the middle of the table (as shown above). Top spot was taken by the Moto E 2nd gen on an impressive time of 33 hours and 19 minutes, almost double the time of the Lumia 532. Joint second were the Lenovo A6000 and Redmi 2, tied on 25 hours and 2 minutes, while the Canvas A1 languished at the bottom with a time of just 7 hours and 8 minutes.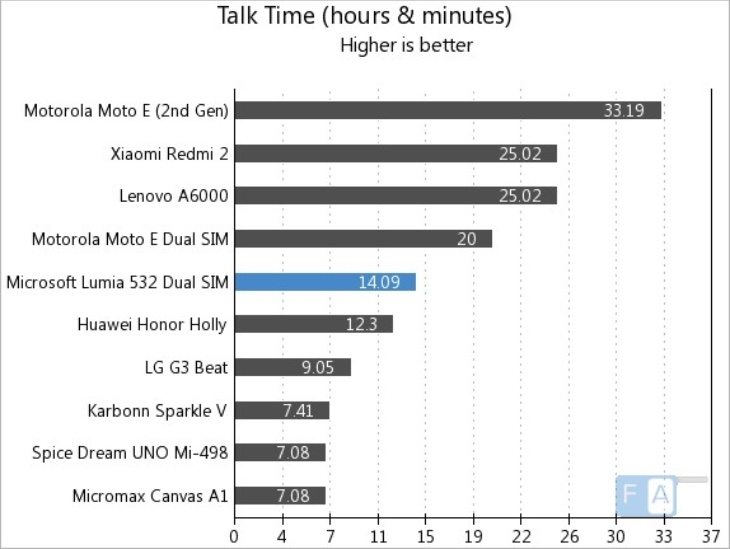 For 3G Browsing the Lumia 532 attained a time of 4 hours exactly, again around halfway down the table. That compares with the Redmi 2 and Moto E 2nd gen in joint first position with 5 hours and 33 minutes. It was also beaten by the Huawei Honor Holly, Moto E Dual SIM, and Lenovo A6000.
Moving on to WiFi Browsing, this time the Lumia 532 is nearer to the bottom of the table (shown below). It achieved a time of 5 hours and 15 minutes, exactly the same as the Honor Holly. By comparison the Redmi 2 heads the table with a time of 7 hours and 8 minutes while the Spice Dream Uno Mi-498 is bottom of the heap.
Finally for Video Playback the Lumia 532 Dual SIM ties alongside the Moto E 2nd gen and Honor Holly on 7 hours and 8 minutes. The Redmi 2 is in top spot on 10 hours while the Lenovo A6000 and LG G3 Beat also beat the 532 with times of 9 hours and 5 minutes and 7 hours and 41 minutes respectively.
You can see the other charts at the source link below as well as a One Charge Rating for the dual SIM Lumia 532, which reveals quite a good result for a handset with a 1560 mAh battery. Overall the phone should offer enough juice for one day of moderate to heavy usage. Now we'd like to hear from readers.
If you already have the Microsoft Lumia 532 are you satisfied with the amount of battery life it has? Maybe you're thinking of buying this smartphone, in which case are you happy enough with these battery life test results?
Source: Fone Arena