HTC One M9 vs iPhone 6, Galaxy S5, Xperia Z3, LG G3 benchmark speeds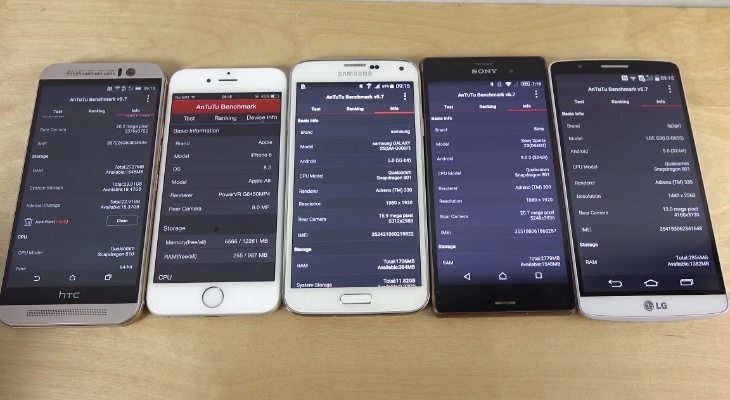 The HTC One M9 flagship released in March to a waiting market, and following the success of the original HTC One and One M8 it's likely to be a decent enough hit for the company. It can often be interesting to take a look and see how one popular smartphone compares to another in a particular aspect, and readers may be interested in the HTC One M9 vs. iPhone 6, Galaxy S5, Xperia Z3 and LG G3 benchmark speeds.
The latest in HTC's flagship series carries a Snapdragon 810 octa-core processor, Adreno 430 graphics, with 3GB of RAM and 32GB of internal storage (expandable to 128GB via microSD). It has a 5-inch Super LCD3 display with resolution of 1920 x 1080 and 441ppi, a 20.7-megapixel rear camera, UltraPixel front-facing snapper, and 2840 mAh battery. It runs the Android 5.0 Lollipop operating system skinned with the Sense 7 UI.
The YouTube video positioned beneath this article shows an AnTuTu benchmark test being conducted on the One M9 and also the Apple iPhone 6, Samsung Galaxy S5 (note the new S6 has also just released), Sony Xperia Z3 and LG G3. These are all notable high-end phones so it will certainly be good to see how they compare in the benchmark testing.
In the video the phones are shown alongside each other and the reviewer first runs through the various operating system versions they are running. The AnTuTu app is then opened up so that you can see which processors are used in each device. Following this, the benchmark test is run and you can see this in its entirety before the scores for each are given. We don't want to give away which device achieved the highest score but we will say there's a fascinating fluke result based on the lineup of the phones!
The reviewer also plans to run the test again using the new Galaxy S6 and also the Sony Xperia Z4 and LG G4 that will both be officially unveiled soon, and the results of that testing will definitely be of further interest. When you've watched the video below do please send us your comments. Were you surprised at any of the results of this benchmark test between the HTC One and other devices?