iPhone 4S on iOS 8.4 vs iOS 8.3 bootup speeds compared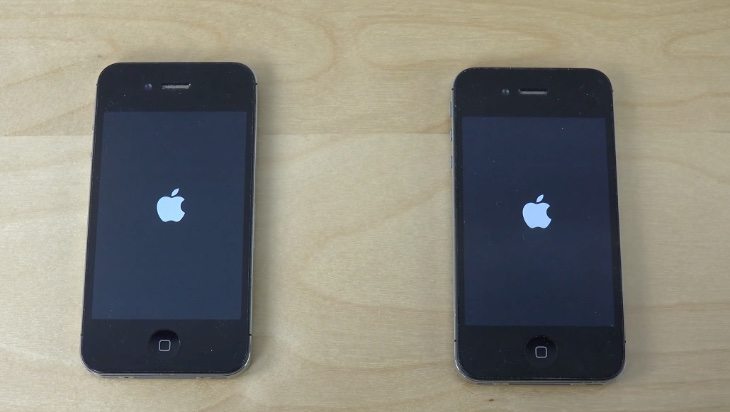 Apple's iOS 8.3 is the latest publicly released version of the mobile operating system, arriving earlier this month. This was followed by the first beta of iOS 8.4 being seeded to developers. It's interesting to see how devices compare when running different versions of iOS and today we're showing an iPhone 4S on iOS 8.4 vs. another on iOS 8.3 in a bootup speed test.
There have been several iterations of the iPhone since the 4S, but we've written plenty lately on the iPhone 5, 5S and iPhone 6 while plenty of people are still using the 4S. Below this article we've embedded a short YouTube video of two iPhone 4S units in a bootup test to see which one is fastest to be ready for action.
The phones are placed alongside each other with the one running the official iOS 8.3 release on the left while the one running iOS 8.4 beta is on the right. Both phones are powered up simultaneously and while we wait to see which is ready first the reviewer discusses a recent jailbreak available for iOS 8.4.
It's noticeable how much longer the iPhone 4S takes to boot up when compared to later iPhones, but eventually both are up-and-running. There really isn't too much between them, in fact it's a very tight race indeed. We're not going to give away the result here as you might prefer to find out when you view the video.
After the testing the reviewer shows that the iPhone 4S's used are running iOS 8.3 and 8.4, and then fires up a few apps, loads WiFi (very slow) and gives some more brief glimpses of how they compare. It's worth noting that iOS 8.4 focuses on the new Music app that will tie in with the launch of the streaming service that's expected to be launched at WWDC in June.
We should also remember that speeds with iOS 8.4 could be further improved with the final build that will release to the public, and it will be interesting to see the same test run again then. Drop us your thoughts on the iPhone 4S testing shown here by using the comments box below.