The Siswood R9 Darkmoon comes with an e-ink display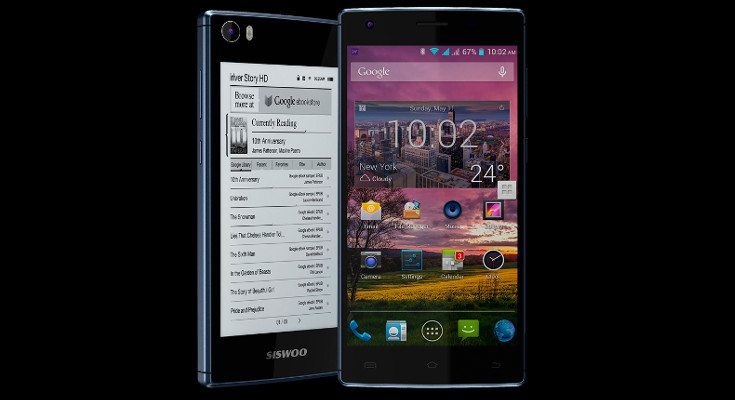 The YotaPhone wasn't a beast under the hood, but it impressed us with its rear e-ink display. We wondered when another company would take a crack at niche, and Siswood looks to be the first with the upcoming Siswood R9 Darkmoon.
Just like with both versions of the Yotaphone, the Siswood R9 Darkmoon will feature an e-ink display on its backside. The panel used is a 4.7-inch e-ink display with a resolution of 960 x 540. When you flip it around, you'll get a 5-inch 1080p IPS display with a ppi of 401. Not too shabby, but the YotaPhone actually has them beat by a smidge with pixels per inch on the front panel.
Screens aside, the Siswood R9 Darkmoon specs show a powerful handset with a 64-bit MediaTek octa-core chip clocked at 1.7GHz with 3GB of RAM and 32GB of internal storage. There's a 13MP snapper on the back to go along with an 8MP sensor on the front, and connectivity options include 4G, Dual-SIM, Wi-Fi, and Bluetooth. The Siswood R9 Darkmoon is powered by a 3,000mAh with Qi Wireless charging, and runs Android 5.0.
On paper, the Siswood R9 Darkmoon has the edge in the specs department against the YotaPhone, but it's a slim margin. User experience is key with a smartphone, and software and components could certainly make a difference between the two. Availability and the all-important price tag will definitely play a part as well, and at the moment we're unsure of both of those when it comes to the Siswood R9 Darkmoon.
Would you like to see the Siswood R9 Darkmoon come to your region if the price was right?
via – GizChina    source: Siswood