Galaxy S6 Edge vs Zenfone 2 (4GB RAM) vs LG G4 multitasking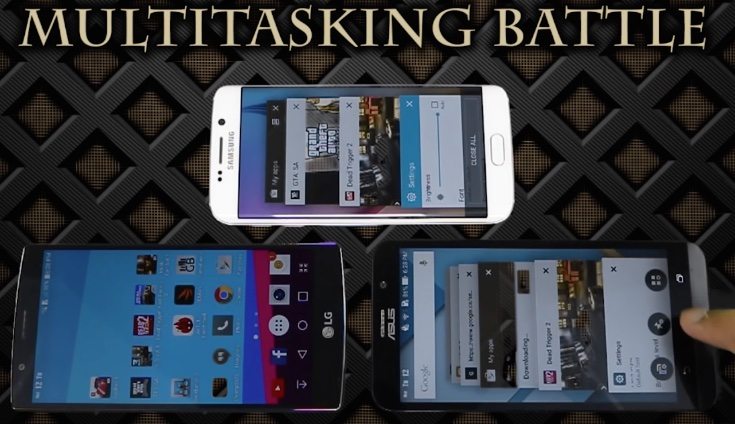 Sometimes it's interesting to see how high-end smartphones compare in one particular area, and today we're looking at the Samsung Galaxy S6 Edge vs. Asus Zenfone 2 (4GB RAM) vs. LG G4 as far as multitasking is concerned. The Samsung and LG handsets have premium price tags while the Zenfone 2 is more affordable but still has plenty to offer.
We've already written numerous articles about the Galaxy S6 Edge, LG G4 and Asus Zenfone 2, including other comparisons, reviews, and more. The Samsung and LG flagships may be the most well known, but the Zenfone 2 is also generating interest, much of this because it has a model (ZE551ML) that comes in a 4GB of RAM variant.
Key specs of the Galaxy S6 Edge include an Exynos 7420 octa-core processor (with 4 cores at 2.1GHz and 4 at 1.5GHz), Mali-T760MP2 graphics, and 3GB of RAM. The LG G4 is equipped with a Snapdragon 808 hexa-core processor (2 cores at 1.82GHz and 4 at 1.44GHz), Adreno 418 GPU, and 3GB of RAM. The 4GB of RAM variant of the Zenfone 2 is powered by a 2.3GHz Intel Atom Z3580 quad-core processor, with PowerVR G6430 graphics, and of course 4GB of RAM.
The YouTube video that you can view below this article solely focuses on the multitasking abilities of these three phones. The test shows the Galaxy S6 Edge, Zenfone 2 and LG G4 alongside each other. The reviewer decides to run numerous intensive game apps in the background on each handset until the devices automatically close the apps by themselves. You'll see various games being loaded such as Asphalt 8, GTA San Andreas, Dead Trigger 2 and more, with a counter showing how many games are now running.
The Galaxy S6 Edge is the first to give up the ghost, while the tester goes on to open further games on the LG G4 and Zenfone 2. The numbers are racked up but we're not going to give away which one eventually outdoes the other or it could ruin the suspense when you watch the video below.
When you've taken a look it would be really interesting to hear your thoughts on this multitasking contest between the Galaxy S6 Edge, Zenfone 2, and LG G4? Were you surprised at which one fared the best or not?