Free Fathers Day messages, quotes, cards apps, Android and iOS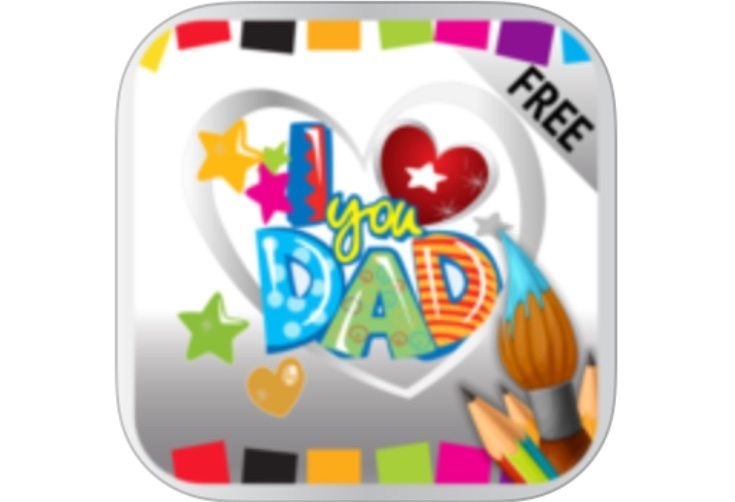 Sunday June 21 is quickly rolling round and for many of us that means Father's Day 2015. This is celebrated in many countries of the world, and is the perfect time for showing your Dad just how much you care. Mobile apps offer a great way of doing this and we have rounded up some of the best free Father's Day messages, quotes and cards apps for Android and iOS devices.
The apps we've selected offer something for everyone, and what Dad wouldn't appreciate a special Father's Day message! Apps also enable you to do this directly from your fingertips on your smartphone or tablet, so even if you forget to purchase a gift you can still show how much he means to you. Simply hit on any of the links to be taken straight to the Google Play Store or App Store to see more or to download the apps.
We'll start with a free Android app and the first one we have for you earns a high 4.4 out of 5 stars on Google Play user reviews. It's called Fathers Day Quotes from Reticode and this app is simple to use and has a good selection of Father's Day postcards that can also be used as Father's Day wallpapers. Once you've found the image you like you can send it to your Dad, and the app also enables you to include customized text for your own message. You can also share the many quotes available through social networks, SMS, instant messaging or email.
Another choice for Android devices is called Father's Day Greetings Maker from vscapps. Celebrate fatherhood with this app collection by saying thank you with greetings, cards, stickers, messages, and quotes. The cards on offer here have more than 100 photo effects and over 50 stickers and messages to use, with pre-defined Father's Day greetings. You can share via Facebook, Twitter, Google Plus, Whatsapp, WeChat and more, and also set greetings as wallpapers. It has both landscape and portrait support and a choice of 60 fonts.
Our final Android Father's Day app suggestion is 2015 Happy Fathers Day Frames from Fancy Photo Frames. You can personalize a memorable photo of you and Dad using these creative photo frame designs and fun stickers. What better way to remind him of a special moment that you shared together! The app offers custom themed frames and photo effects, and you can send them as ecards or greetings cards. There are also quotes available as well as a puzzle game.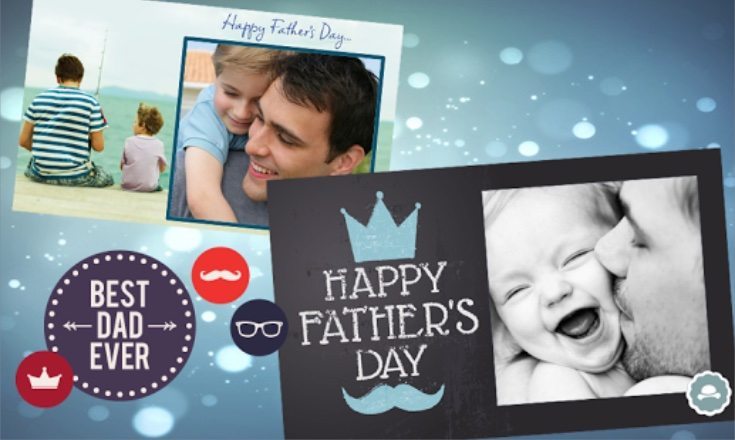 Now we're moving on to some iOS apps for iPhone, iPod touch and iPad. We'll begin with Happy Father Day by Creative iApps. The app is an excellent way of showing gratitude and love to your Dad/ Daddy/Pop/Papa. Users can create beautiful and fun cards and produce designs with finger swipe touch gestures. You can pick a background, write your own text, customize the font style, change colors, resize and rotate, preview, and then send your cards. You can also post to your Facebook wall with one click so that everyone can see how much you think of your Father. Another option is to use a photo from your album or use the camera to take a photo to use as a background.
The next iOS choice is Happy Fathers Day Photo Frames, Cards, Wallpapers from Janice Ong. This photo app offers Father's Day wallpaper, frames, greetings cards, and more. It works in the same way as some of the other apps above, with more than 80 frames and over 40 cards and wallpapers to select from. There are also some bonus videos as a little extra, such as a Father's Day song, Father's Day cake making, Father's Day surprise and more.
Our very last Father's Day app choice is also a free app for iOS devices. It's called Fathers Day Coloring by HexaSolutions and this is a good app for kids who love drawing and coloring. It will help them to produce a card to be proud of, with cute and attractive images, 30 quotes of love, and the ability to save completed pictures. Colors can be changed with a finger touch, it has a child friendly interface, different brush sizes, and hand drawn artist's pictures to color. This app offers a great Fathers Day activity for kids and will keep them busy for hours.
Remember that all of the above apps are free. Hopefully at least one of them will be exactly what you're looking for to help celebrate Father's Day 2015. If you have any other Father's Day apps you'd like to recommend with other readers, tell us about them using the comments box. Oh… and to all your fathers out there, Happy Father's Day!