Samsung Galaxy Tab A gaming performance review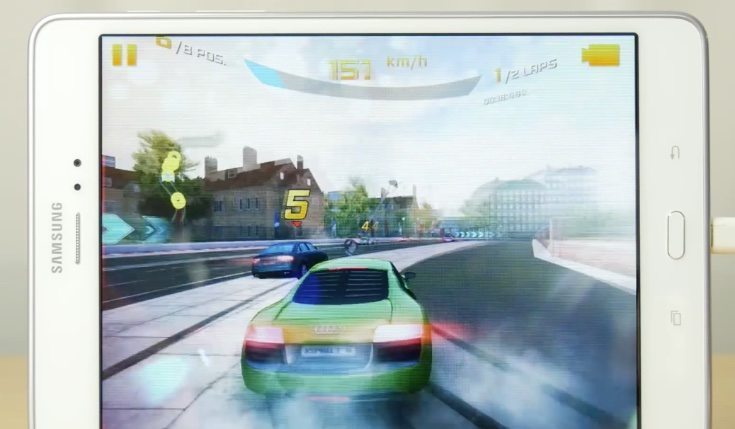 The Samsung Galaxy Tab A released in May and comes in two different sizes, one with an 8-inch display and the other at 9.7-inches. The tablets are being sold in regions worldwide, for example the Samsung Galaxy Tab A 8.0 recently launched for India. If you're an avid fan of mobile gaming you might be interested in this particular aspect of the tablet, so today we're showing a Samsung Galaxy Tab A gaming performance review.
Samsung tablets are often popular, and the Galaxy Tab A isn't likely to be an exception. You can see much more about the device in our previous articles here. However, key specs of the model used in the review include a 1.2GHz Snapdragon 410 quad-core processor, Adreno 306 graphics, and 2GB of RAM. Screen resolution is at 1024 x 768.
Below this post we've embedded a YouTube video from Fone Arena that shows a gaming review of the Samsung Galaxy Tab A. You'll see different sections of gameplay on the tablet with the games being Asphalt 8, Riptide GP2, Grand Theft Auto San Andreas, Dead Trigger 2, and FIFA 15 Ultimate Team. After each gaming clip a score is given for both graphics and performance. For instance with Asphalt 8 the Galaxy Tab A is awarded a rating of 4/5 stars for graphics and 3/5 stars for performance.
When you watch the video you'll see all of these ratings and at the end of the review an overall score for gaming on the Samsung Galaxy Tab A is given. We won't state that here, as it will spoil the suspense! When you've taken a look at the video it would be good to receive your comments.
After seeing the gameplay of the Samsung Galaxy Tab A are you satisfied that this tablet will suit your gaming needs? If you already have this device we'd be interested to hear your own thoughts on the gaming experience that it offers, so do let us know.