Samsung Galaxy Note 5 battery life results compared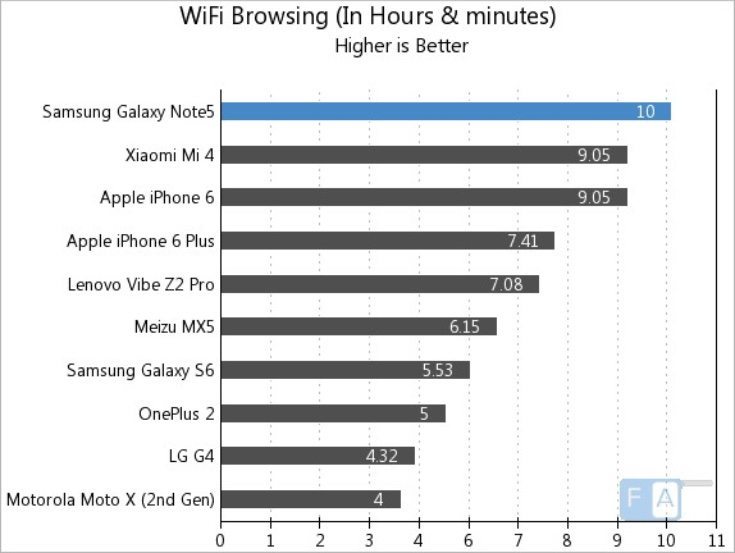 Many of us now use our smartphones more than ever, and so battery life is an increasingly important factor when buying a new device. There have been a few weeks to test out the new Samsung Note and we have information from some recent Samsung Galaxy Note 5 battery life testing that also compares the results with some other top handsets.
Any new Galaxy Note phablet is always popular and there's plenty to admire about the Note 5. However, one area of criticism concerns the fact that it no longer has a removable battery as its predecessors did. It does pack a 3000 mAh battery though, so it will be good to know how it fares in battery tests. Fone Arena has run the Galaxy Note 5 through its usual testing to discover this.
The Samsung Galaxy Note 5 battery life tests are split into four categories, Talk Time, 3G Browsing, WiFi Browsing, and Video Playback. After each test a table shows how the results of the Note 5 compared with other devices. Just a few of the other phones that it's compared with are the Samsung Galaxy S6, Meizu Mi4, LG G4, OnePlus 2, and Meizu MX5.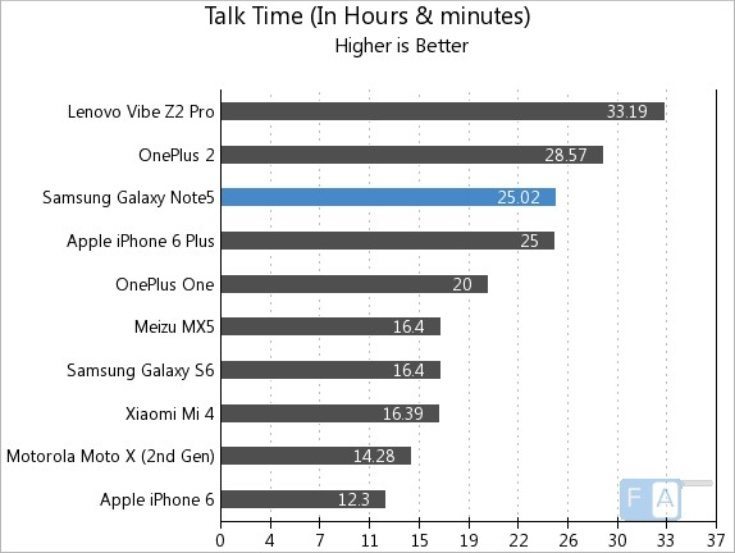 For Talk Time the Note 5 managed an impressive time of 25 hours and 2 minutes putting it in third spot on the table (see image above). First place was taken by the Lenovo Vibe Z2 Pro with 33 hours and 19 minutes while the OnePlus 2 was in second spot on 28 hours and 57 minutes. By comparison, languishing at the bottom of the chart was the iPhone 6 on just 12 hours and 30 minutes.
Moving on to 3G Browsing the Galaxy Note 5 achieved a time of 7 hours and 41 minutes placing it right at the top of the table. The Xiaomi Mi4 was second with 6 hours and 15 minutes while the Meizu MX5 and OnePlus One were joint third on 5 hours and 33 minutes. Again the iPhone 6 was in last place with a time of 3 hours and 20 minutes.
For WiFi Browsing the Note 5 got a result of 10 hours, again placing it in top position (image below). The Xiaomi Mi4 and iPhone 6 were in joint second spot with a time of 9 hours and 5 minutes, with the iPhone 6 Plus next on 7 hours and 41 minutes. This time the Moto X 2nd gen was at the bottom with a time of only 4 hours.
The final category was Video Playback and again the Galaxy Note 5 achieved an impressive result. A time of 14 hours and 9 minutes put it in second spot with only the iPhone 6 Plus beating it with a time of 20 hours. The Meizu MX5 and Samsung Galaxy S6 were tied in third place on 11 hours and 7 minutes, while the Xiaomi Mi4 was at the bottom of the table on 6 hours and 39 minutes.
If you want to see the full result tables and One Charge rating for the Galaxy Note 5 head to the source below where you can also find out the battery test procedures involved. Interestingly it's pointed out that the phablet's One Charge rating was significantly better than that of the Galaxy S6. It will be interesting to see how similar testing on the newly released iPhone 6S Plus compares with the Note 5.
Did you have concerns about the Samsung Galaxy Note 5 battery life, especially now it lacks a removable battery? Are you more than satisfied with the results the Note 5 managed in this battery testing?
Source: Fone Arena