Alcatel OneTouch Fierce XL Windows 10, Android variants in image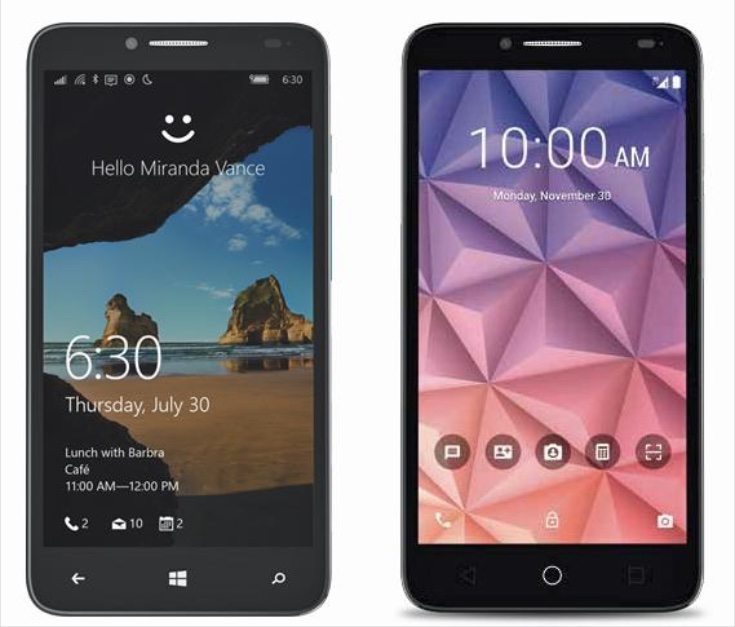 There's some new information on the Alcatel Windows 10 device that the company previously said it was working on. It appears this will be the Alcatel OneTouch Fierce XL smartphone that will come in both Windows 10 and Android variants, as shown in a new image. The phone is not official right now, but it shouldn't be too much longer until we hear more.
A fresh leak from prominent leaker @evleaks shows two handsets side by side. You can see the image below, and the one on the left is said to be the Alcatel OneTouch Fierce XL Windows handset while the phone on the right is an Android version. As you would expect, one of the models has capacitive buttons, but otherwise they look the same.
This is not the first occasion that Alcatel has produced a smartphone that runs different operating platforms, so this leak is certainly plausible. The fact that it comes from @evleaks also makes us inclined to think this leak is accurate. The source also says that both will be offered on T-Mobile USA, but it's not clear whether the devices will ONLY be released by that carrier.
A few unconfirmed specs are also available. Alcatel OneTouch Fierce XL specifications are thought to include a 1.1GHz Snapdragon 210 quad-core processor, a 5.5-inch display with HD resolution of 1280 x 720, 2GB of RAM, and 16GB of internal storage. Further leaked specs are an 8-megapixel rear camera, 2-megapixel front-facing camera, and 4G LTE connectivity.
From these unofficial specs it looks safe to say that the phone will be an affordable option in either the Windows 10 or Android version. Previously Alcatel said that the company's first Windows 10 Mobile phone should release by the end of the year, and the OneTouch Fierce XL has been tipped for a December arrival.
Might you be interested in the Alcatel OneTouch Fierce XL? Would your choice be the Windows 10 Mobile or the Android model?
Source: @evleaks (Twitter)