Official BlackBerry Priv price and pre-orders for US, Canada, UK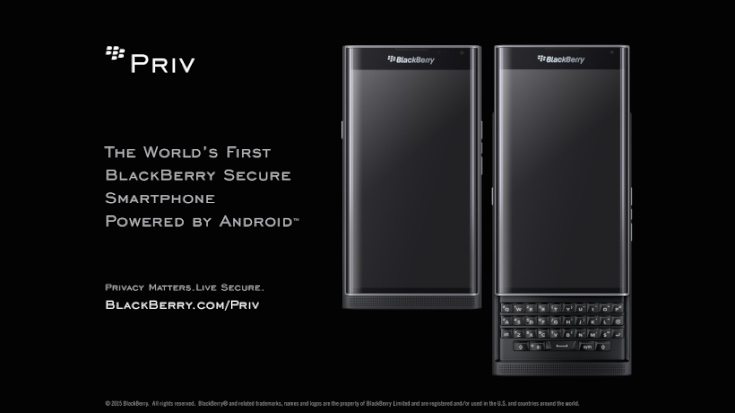 Those who have been waiting for the official BlackBerry Priv price and pre-orders for the US, Canada, or UK have good news today. Pre-orders on the official Shop BlackBerry online store are now open. Prices are cheaper than previously leaked for the US and Canada, and also cheaper than earlier pre-orders from one UK retailer. We also have news on the release dates for those countries.
There has been a lot of anticipation for the BlackBerry Priv, as this smartphone offers something rather different in that it runs the Android operating system. It also has a slideout physical keyboard and plenty of top-grade specs to offer. A few days ago there was a price leak for the US and Canada, although the webpage was later pulled. Fortunately the official BlackBerry prices for the BlackBerry Priv have now been confirmed and are a bit less.
If you're in the US you can head to BlackBerry US where you'll see a pre-order page giving the BlackBerry Priv price as $699. A shipping date of November 6 is stated, so there really isn't too much longer to wait. However, one thing that's worth pointing out is that this is the model on sale is not compatible with Verizon, Sprint, or US Cellular, although a CDMA version should also be up for grabs before too much longer.
Alternatively Canadian buyers can find pre-orders at BlackBerry Canada where the BlackBerry Priv price is $899. The release for Canada is the same as for the US on November 6. Finally buyers in the UK need to go to the BlackBerry UK page where the price tag is £559. That's a lower price than the SIM-free price from Carphone Warehouse that we previously reported on. The availability date for the UK is from the week beginning November 9.
Are you now going to pre-order the BlackBerry Priv from the official online store? What do you think of the BlackBerry Priv prices as given above? Do let us know with your comments.
Via: BlackBerry Blog