Redmi 3 specs teaser confirms sizeable battery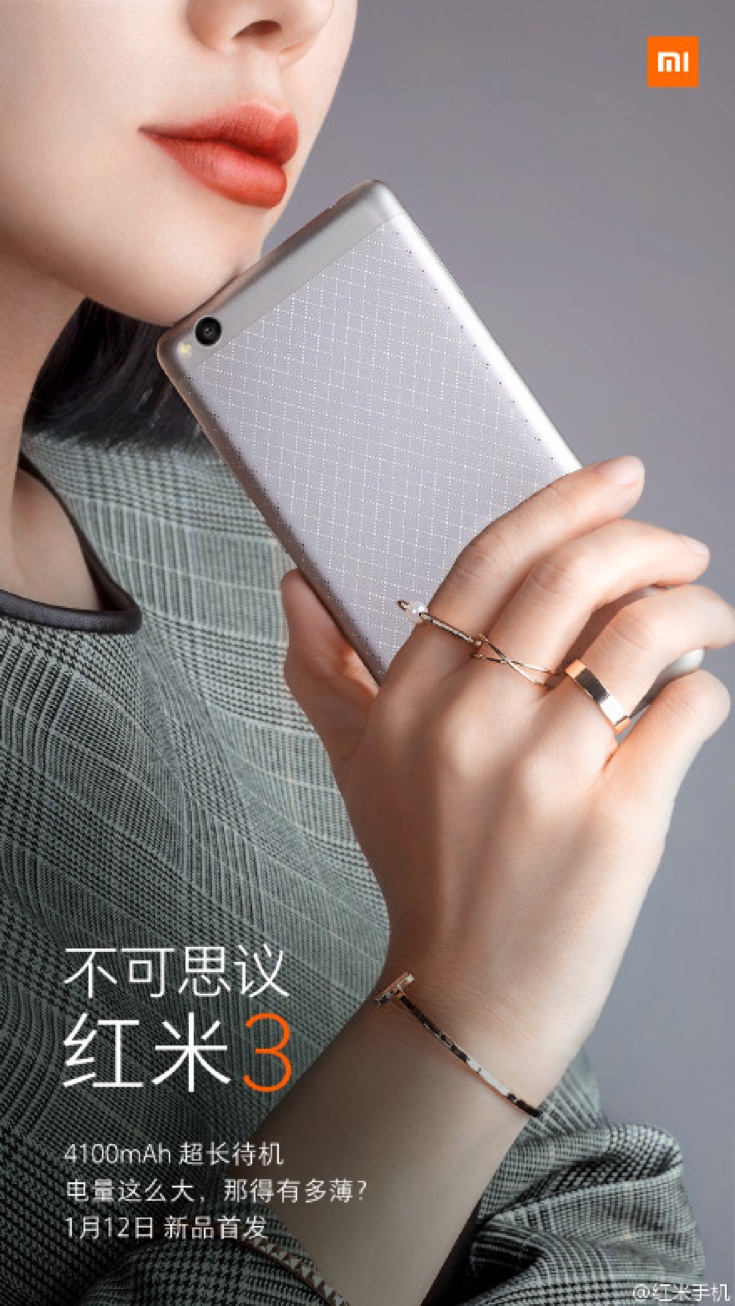 The Xiaomi Redmi 3 smartphone is the subject of plenty of attention right now and we're only days away from its official unveiling. The company has been trickling out some information about the phone, and now a new Redmi 3 specs teaser has confirmed it will have a sizeable battery.
A few days ago Xiaomi issued a poster teaser about the Redmi 3 that confirmed the handset would launch on January 12. A few other details were made official on the company's official Weibo account, namely a 5-inch display size and metal body with patterned reverse.
Now Xiaomi has issued another teaser on Weibo, this time confirming a 4100 mAh battery, enough for a plentiful supply of juicing power. Battery life is an increasingly important factor for many of us considering a new smartphone, especially when given the growing battering we give our devices. Therefore this addition should be a big selling point.
The same teaser also emphasizes that although the Redmi 3 will have a notable battery size, the handset will still be slim. This is thanks to the utilization of high energy density technology. Officially confirmed so far then are a metal build, 5-inch display, and 4100 mAh battery for the Redmi 3.
Other rumored but unofficial specs include a Snapdragon 616 processor, 2GB of RAM, and 16GB of internal storage. Leaks also suggest a 13-megapixel rear camera, and a 5-megapixel front-facing snapper, while it looks as though the Xiaomi Redmi 3 will be running the Android 5.1.1 Lollipop OS.
There are only days to go until the phone makes its official debut, and we'll finally have all of the confirmed Redmi 3 specs, and hopefully a release date and pricing as well. Do check back with us, as we'll bring you all the gen on the device as we get it. In the meantime we'd like to know your thoughts about this smartphone.
Are you eager for the Xiaomi Redmi 3 launch? If the price and confirmed specifications are right, are you a prospective buyer of this handset?