Droid Turbo 2 green line problem causes frustration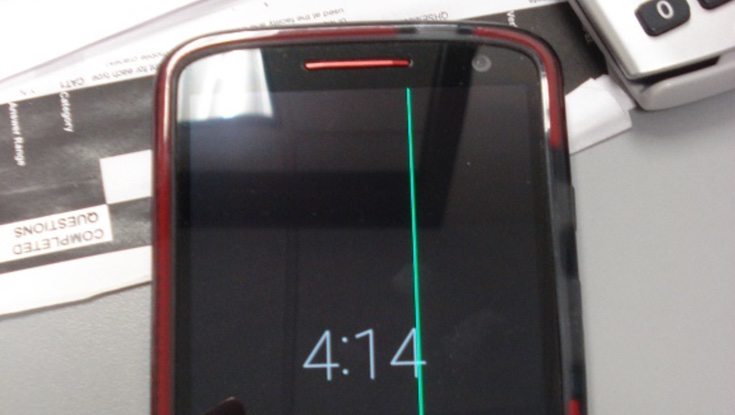 The Motorola Droid Turbo 2 released in late October as an exclusive for Verizon. It has received plenty of praise as a high-end device, with top specs and features winning over many buyers. However, some owners of the phone are reporting a Droid Turbo 2 green line problem, and this is understandably causing some frustration.
Motorola forums are awash with Droid Turbo 2 users complaining about a green line that randomly appears on the display of their device. It's reported that some owners of the phone noticed this issue as long ago as the middle of November, and you can imagine the upset and anger that this is causing to those whose devices are affected.
It's still not clear whether the green line problem involves the hardware or software, but when the issue was first reported Motorola's initial reaction was that it could have been caused by the handsets being dropped. However, that doesn't appear to be the case, with plenty of device owners concerned saying that their Droid Turbo 2 has not been dropped. Interestingly some have reported that this problem crops up at random and comes and goes.
Some may recall that a lot was made about the Shatterproof Display of the Droid Turbo 2 when it was announced, and to be fair it came out well in early drop tests. That's not much of a consolation when this green line issue is affecting the screen though. It's now a few months after the problem was first reported but there still doesn't seem to be a fix.
While some people complaining about this green line display issue don't seem to have had much luck, other are saying that Motorola has supplied them with a fresh handset. Therefore the current advice is to contact Motorola or Version if you notice this Droid Turbo 2 green line issue. This gives the chance of getting a replacement, although of course there's no guarantee that your new handset won't also be affected by this problem.
Have you noticed this green line fault with your Motorola Droid Turbo 2? If so, what was the response when you approached Motorola or Verizon about the problem? Do let us know, as it's interesting to hear the different experiences that readers have had about this.
Source: Motorola Forums
Via: Phandroid