The Pagaré Smartstrap brings Mobile Payments to the Pebble Time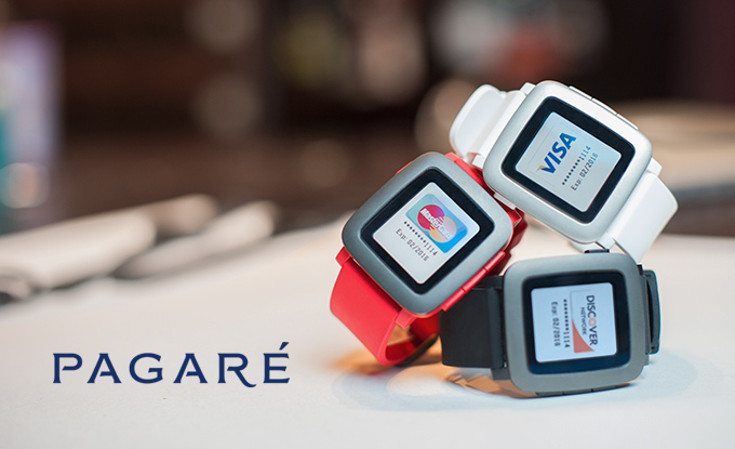 Each month we see dozens of mobile accessories hit Kickstarter and other crowdfunding platforms. The Pagaré smartstrap is one that is coming to a close, and it's something you may want to back if you want to add a bit of functionality to your Pebble Smartwatch.
Pebble has gained a lot of fans with their smartwatches, and they have gotten better with each new release. There are still some features you can't get on a Pebble Time Smartwatch though, which is where gadgets like the Pagaré smartstrap step in. It's far from the first smartstrap we've seen, but it may be the coolest and it has one handy feature that puts it over the top.
In a nutshell, the Pagaré smartstrap is a band you can slap onto your Pebble Time to enable mobile payments. It has an NFC chip and a secure element that stores tokenized data for the card networks. A"trapper" activates the Pagaré app, which asks for a PIN and allows you to pay up. It also has a PCB in the strap that lets it know it's on your wrist, and if the watch or trapper is removed, payments will be disabled. Needless to say, the Pagaré smartstrap is setup and certified with all the major card networks and will work in a wide variety of shops.

Any smart addition to your Pebble will obviously draw extra juice, but the minds behind the Pagaré smartstrap have taken care of that. The strap comes with a hidden USB connector that allows you to plug into a port and get your charge on. There's no need to tote a cable around because there is no charging port on the Pagaré smartstrap. As for the setup, you can scan your cards in through the Pagaré app and activate then you are good to go sans the smartphone.
For every two-dozen gadgets that pass through Kickstarter, a couple come along that are truly useful. The Pagaré smartstrap appears to fit the bill if you own a Pebble Time, and there is still time left in their campaign if you want to pick one up.
The Pagaré smartstrap is available in several different colors for the Pebble Time, the Pebble Time Steel and the Pebble Time Round with prices starting at around $49 depending on where you reside. This one has already hit its funding goal and will come to a close on March 9th with the first bands set to roll out in July.
Pagaré Smartstrap Kickstarter