Lyf Water 7, Wind 4, and Flame 2 availability in the next few days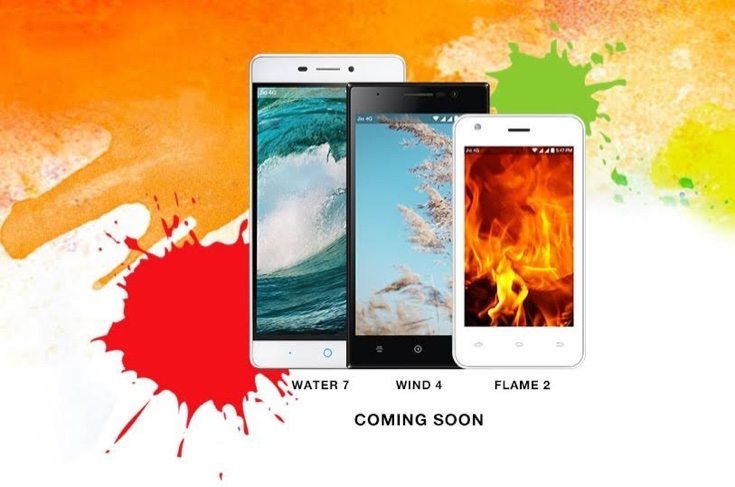 Over the last few weeks we've reported on several new smartphones from Reliance owned Lyf. Now there are further arrivals with the Lyf Water 7, Wind 4, and Flame 2 that have been announced and are heading for availability in the next few days. As well as the new phones the company is also cutting prices of some of its previous handsets.
All of the new Lyf smartphones have 4G LTE connectivity and all run virtually stock Android. They were announced yesterday as part of the company's Holi Celebration offer. They will go on sale at Reliance Retail outlets across India very soon, but at this point the company hasn't provided full specs or all of the prices.
Lyf has send out a press release though and shows them on its official website with a tag that says "coming soon." The Lyf Flame 2 is an extremely affordable smartphone with a price of just Rs. 4,999. Alternatively the Lyf Wind 4 packs a nicely sizeable 4000 mAh battery, the highest capacity for a Lyf smartphone. Next up is the Lyf Water 7 a more high-end device that features a fingerprint sensor for verification and security.
That's about all that Lyf has disclosed about these three new smartphones so far, but we'll let you know more details as we get them. As well as the new phones Lyf has announced "celebration prices" for the Lyf Water 1, Water 2, Earth 1, Flame 1, and Wind 6 although the press release doesn't actually give the prices.
Lyf says, "The launch of the new devices is in line with the company's vision of ensuring availability of 4G LTE smartphones across price points to encourage mass adoption of high speed internet, high-definition voice, video calls and rich value-added services."
What are your thoughts on the recent arrival of Lyf smartphones? Do you like what you see so far? Perhaps you're a potential buyer of the new Lyf Water 7, Wind 4, or Flame 2?
Source: Lyf