Moto X Force battery life vs X Style, Galaxy Note 5 and more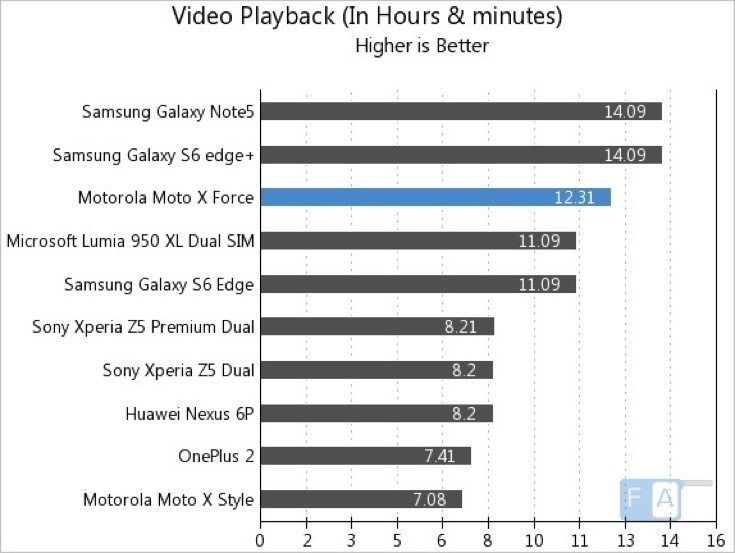 The Motorola Moto X Force released in some markets late last year and in February this year it also launched in India. With the increasing amount that we use our smartphones, battery performance is an increasingly important aspect for many of us. That's why we're considering the Moto X Force battery life vs the X Style, Galaxy Note 5 and more following testing.
Make no mistake the Moto X Force is a high-end smartphone with some top specs and a shatterproof display. It's powered by a Snapdragon 810 octa-core processor, with 3GB of RAM, and has a 5.4-inch display with Quad HD resolution. It's also equipped with a 3760 mAh battery featuring wireless charging and Turbo charge feature. That certainly sounds capable of providing enough juice, so how does it fare in battery life testing?
The phone has been put through various battery life tests by Fone Arena, and the four main categories are Talk Time, 3G Browsing, WiFi Browsing, and Video Playback. For each set of testing the results achieved by the Moto X Force were placed on tables compared to nine other smartphones and phablets. As well as the Moto X Style and Samsung Galaxy Note 5 (both with 3000 mAh batteries), some of the other devices included are the Sony Xperia Z5 Premium, OnePlus 2, and Microsoft Lumia 950 XL.
As far as Talk Time is concerned the Moto X Force took joint top place on the table, along with the Moto X Style and Sony Xperia Z5 Premium Dual (see image directly below). They all achieved a time of 33 hours and 19 minutes, followed closely by the Nexus 6P on 33 hours and 18 minutes. The Samsung Galaxy Note 5 was not far off the bottom of the table with 25 hours and 2 minutes, and in last place was the Samsung Galaxy S6 Edge on 14 hours and 11 minutes.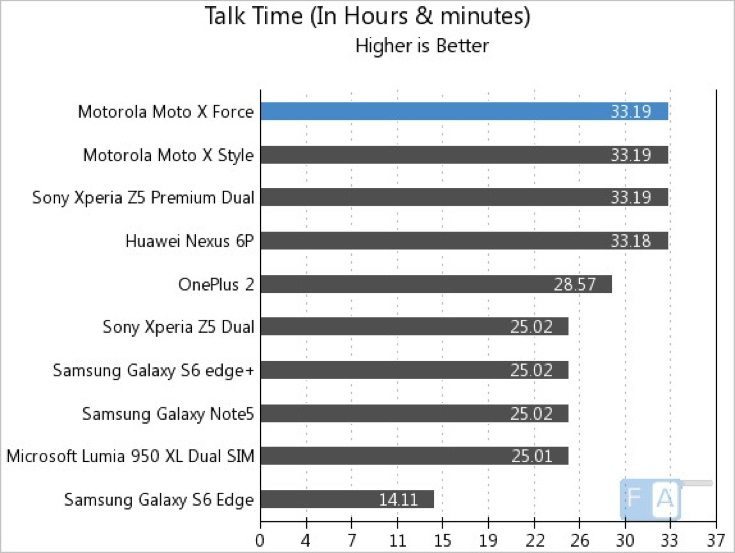 For 3G Browsing the Moto X Force grabbed a very respectable second place. It attained a time of 7 hours and 9 minutes and was only beaten by the Galaxy Note 5 on 7 hours and 41 minutes. Surprisingly the Moto X Style languished in the bottom spot this time with just 3 hours and 34 minutes.
There was a rather different result for WiFi Browsing, as the Moto X Force was close to the bottom of table on 4 hours and 33 minutes. Only the Moto X Style did worse with a time of 4 hours and 20 minutes. This time the Galaxy Note 5 was at the top of the tree with an impressive time of 10 hours exactly.
In the final Video Playback category it was the Samsung Galaxy Note 5 that came first again (image below). This time it shared the honors with the Samsung Galaxy S6 Edge+ lasting 14 hours and 9 minutes. The Moto X Force battery life was still good though, as it was in the next spot on a time of 12 hours and 31 minutes. The Moto X Style failed to impress again, in last place on only 7 hours and 8 minutes.
If you want to find out more about the battery test procedures, see the other tables, or find out a One Charge Rating for the phone, please head to the source below. Overall the Moto X Force did well, especially for Talk Time. Are you satisfied with the Moto X Force battery life as shown by this testing?
Source: Fone Arena