Sharp Basio 2 lands in Japan with a Unique Style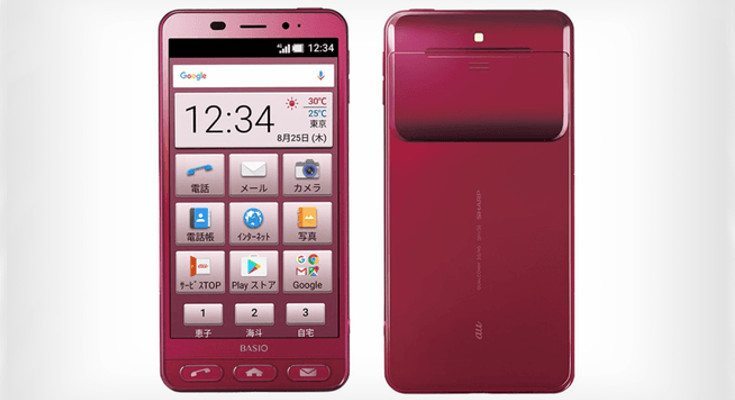 With the constant onslaught of smartphones, it's hard to stand out in a crowd. When you look as unique as the Sharp Basio 2, that isn't going to be a problem.
Dozens of smartphones get released each week, so it's easy for a few to fly under our radar. That's what happened with the Sharp Basio 2, which hit the net last week with a different kind of style. As you can see, it has three physical buttons on the front including a messaging button — something you don't see every day. Those buttons light up and there are three more permanent buttons of the virtual variety that allow you to access three contacts.
The bizarre features continue on the rear of the handset as the Sharp Basio 2 has a sliding cover that keeps the sensor safe while not in use. That said, the LED flash stays unsheathed so it can be used as a flashlight. Throw in a magnifying feature to go along with the large icons and you've got a phone geared towards the older crowd.
In terms of horsepower, the Sharp Basio 2 is solid with a Snapdragon 617 and 2GB of RAM. The storage is listed at 16GB but expandable while the display clocks in at 5-inches with a resolution of 1,280 x 720. A 2,810mAh battery will keep the lights on, and a 13MP sensor will take your snapshots… when it's not housed in that sliding cover. Other features include the IP55/58 tag, Bluetooth, Wi-Fi, Cat. 6 LTE, and Android 6.0.
While funky, the Sharp Basio 2 isn't a phone you'll be able to stroll out and grab unless you live in Japan. The smartphone will go on sale in the country on August 5th in Red, Gold, and Blue, but don't hold your breath for it to land in other regions.
via – Digital Trends