Behold the Brand-New Apple A10 Chipset!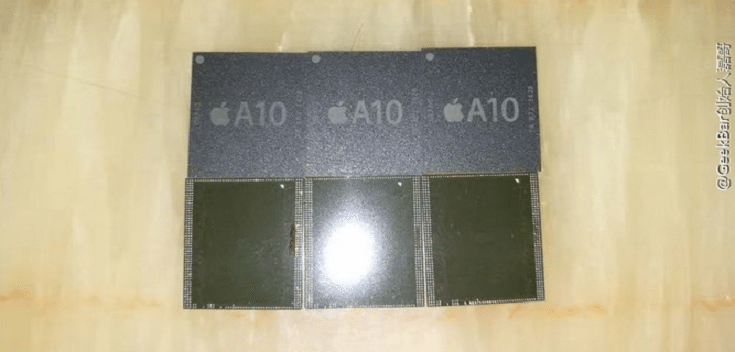 The Apple A10 chipset was spotted today in a relatively fuzzy picture, but Apple fans will definitely rejoice seeing this beauty regardless of resolution and ISO. The A1o is the sequel of the hugely powerful and popular A9 architecture and it will be present in the next generation of iPhones. The A9 system on chip is currently at work in Apple's iPhone 6s and 6s Plus. However, the difference between the A9 and the A10 chipset is more than it meets the eye.
Whilst the A9 was built by two manufacturers, TSMC and Samsung respectively, the wave of the future will come from TSMC only, as the Korean tech giant and the Cupertino based company are not best friends anymore (patent/copyright issues, you know the drill). The current A9 features 2 gigabytes of LPDDR4 RAM and the rumor mill has it that the upcoming A10 will come with 50% more RAM, i.e. 3 gigabytes. The current architecture is a dual-core variety with the CPUs clocked at 1.84 GHz.
A leaked GeekBench test from a few days ago shows the new A10 chip running vigorously at a flabbergasting 2.37 GHz, unfortunately John Poole from Primate Labs called the leaked intel  a patent fake, so we'll remain cautious about the speed. Apple is rumored to unveil its next generation of smartphones on September 7, i.e. the iPhone 7 featuring a 4.7 inches wide display and the iPhone 7 Plus boasting 5.5 inches of screen real estate. The speculations about the new gen's novelties include a capacitive touch-screen button, a new design of the antenna lines, an extinct earphone jack (3.5 millimeters), a bigger/better camera lens on the back panel and even a dual-camera setup for the iPhone 7 Plus.
According to some analists though, the iPhone 7 will disappoint its fan-base, but it remains to be seen how the incremental step from the A9 to the A10 chipset (still a dual core variety with invincible single-core performance) will make a difference in terms of sales.