iPhone 7 Plus, A10 Chipset scores 1483 points more than Snapdragon 820 on Geekbench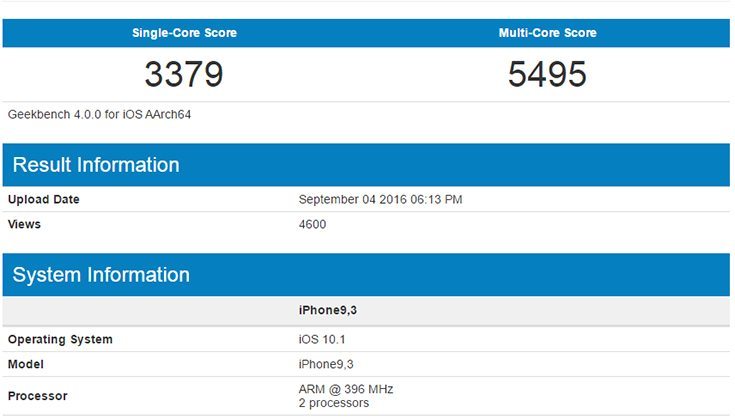 Hats off to Apple for keeping the details regarding the iPhone 7 a secret. We don't even know for sure whether the phone will be called iPhone 6SE or iPhone 7. The specs of the phone are still inducing curiosity among people and the launch is just one day away from us. But today, the iPhone 7 Plus passed through Geekbench and we have some amazing scores of the Apple A10 chipset. The chipset will be the best chipset produced by Apple for the iPhone to date.
Even though the iPhone 7 and iPhone 7 Plus will not feature any drastic changes cosmetically, the internals have received a significant bump from the predecessors. And by significant, I mean a very significant change. The brand new Apple A10 chipset has scored massive numbers on Geekbench.
The single-core score of the iPhone 7 Plus is given as 3379 points. If that doesn't mean anything to you, let me point out the single-core scores of the other top-end chipsets in the market right now.
Apple A9 — 2526 points
Exynos 8890 — 2067.66
Snapdragon 820 — 1896
The multi-core scores have also received significant boosts compared to the iPhone 6s Plus. The iPhone 7 Plus scores 5,495 points in comparison to 4404 on the iPhone 6S Plus, 6,100 on the Exynos 8890 and 5,511 on the Snapdragon 820.
If these scores are to be believed, then the iPhone 7 Plus will be undoubtedly the best performing smartphone in the world. It can easily beat the Snapdragon 820 and the Exynos 8890 in terms of single-core and multi-core applications. With the lack of innovative features on this year's iPhones, Apple has managed to bring about a drastic improvement in the hardware side. But at the end of the day, these are synthetic benchmarks and real-world usage may show a difference.
via – Phonearena
Source