Samsung Galaxy Folder 2 Goes Official in China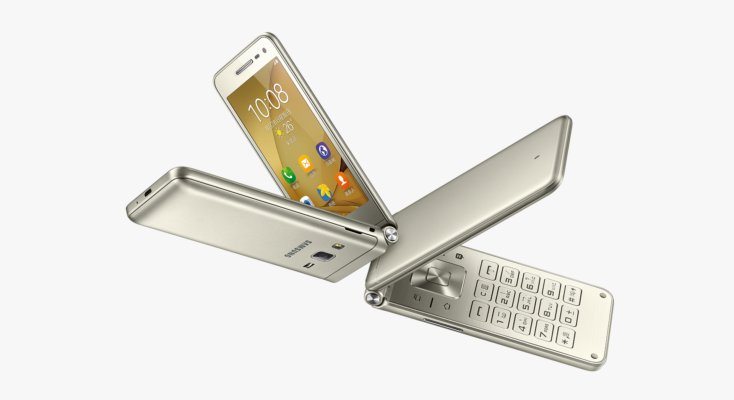 After tons of leaks and rumors, the long awaited for Samsung Galaxy Folder 2 is now official, finally, courtesy of Samsung China. Why Samsung China you asked? Well, your guess is as good as mine, but if you ask me, Samsung really believes that China with its billions of potential customers is the perfect place to launch a clam-shell droid in 2016. But then again, I may be wrong.
Truth be told, the Samsung Galaxy Folder 2 is a pretty cool concept; I mean, a flip smartphone with a 2000s design and running on Android Marshmallow 6.0.1, what can go wrong? I really loved flip-phones back in the day and I think I'll get a Folder 2 for my birthday or Christmas if Samsung will give me the opportunity. Getting back to our news story, Galaxy Folder 2 was first spotted on TENAA, the Chinese regulatory bureaucracy about a month and a half ago and it's massive compared to the old clam-shell feature-phones from 10 years ago.
The display is just 3.8 inches wide,which is comparable to Apple's iPhone SE (4") and has a resolution of 480×800 pixels, ; also, when folded, the smartphone measures 122 millimeters, while unfolded it's really huge, as you can imagine. Powering the whole shebang is a Qualcomm Snapdragon 425 system on chip, 2 GB of RAM and 16 GB of native storage capacity, expandable though via micro SD cards.
The battery capacity is 1950 mAh and Samsung boasts the Galaxy Folder 2's 318 hours of standby time, but that remains to be seen in real life. The device comes with dual SIM capability and an 8 MP main snapper plus a secondary 5 MP selfie camera on the front panel. Unfortunately, it looks like the Samsung Galaxy Folder 2 is a China exclusive deal, at least for now, and even if we don't have official intel about pricing, rumor has it at around $285.