Hot Deal Alert: Samsung Evo Plus 128GB Micro SD Card Priced at just $37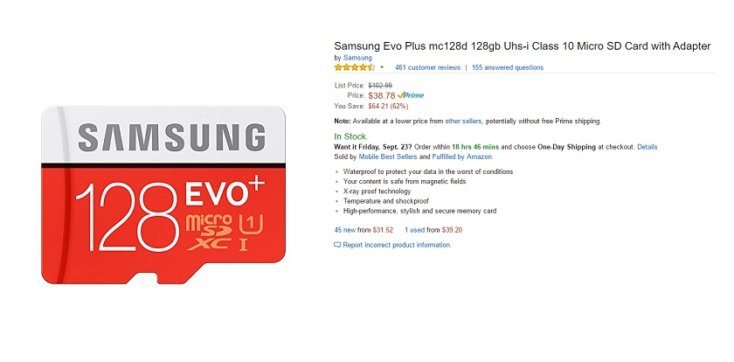 Today's hot deal alert is as good as it gets, i.e. you can get a Samsung Evo Plus 128GB micro-SD card for only $37. Keep in mind that what we're dealing with here is a class 10 micro SD card with an adapter, which normally sells for one hundred bucks, give or take, meaning that you'll save 60% from the regular retail price. On top of that, this is a Samsung-made micro SD card, top-tier, high-end and the whole palaver. In case you did not know it, Samsung is maybe the best company in the world when it comes to manufacturing memory such as RAM, SSDs, SD cards and similar stuff.
Micro SD cards are excellent for expanding your smartphone's (or digital camera) memory capacity and truth be told, they had a rough (and weird) trip for the last couple of years or so, as some smartphone manufacturers started to drop the expendable storage (via micro-SD cards) feature in their products for a while, then they changed their mind and micro-SD expansion slots are back with a vengeance. I wonder who sets these stupid market trends…I mean, having no expansion slot in your smartphone is idiotic and counter-productive, forcing you, the customer, to spend beaucop dollars for a, let's say, 256 GB iPhone 7 instead of getting the regular 32 GB and use a cheap (ahem, that's the problem actually) micro SD card to store your vids and pics and whatevs.
As I am writing this piece, it looks like UFS memory cards are going to obliterate SD technology in the near future, hence the price drop of micro SD Cards, i.e. this is the best time to buy, as the prices are at historic lows. With this idea in mind, Samsung offering a class 10 Evo Plus 128GB micro-SD card for $37 makes for an exceptional deal in this writer's opinion, considering the ridiculous prices smartphone manufacturers are asking for 128GB of native storage capacity devices. So go get yours ASAP.