Honor Pad 2 specifications include 3GB of RAM and 4G LTE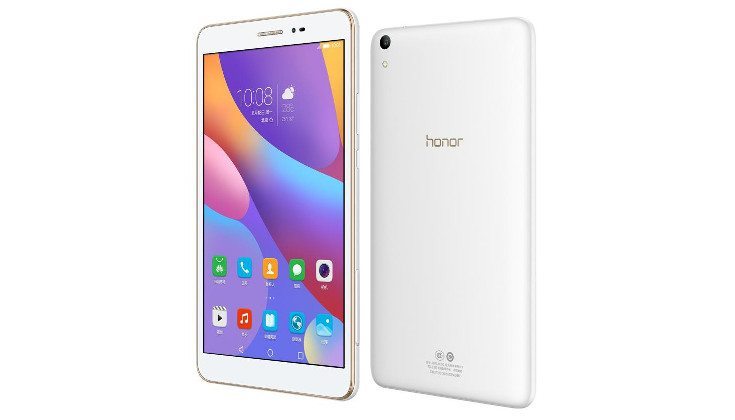 Huawei has had a big couple of weeks, and we can hardly go a day without covering something new or upcoming from the company. Today, it is the Honor Pad 2 which has just been announced as a slate with voice-calling capabilities.
While most of us can't imagine putting a 7-inch tablet up to our heads to make a call, voice-calling slates are quite popular in some parts of the globe. Regardless of where you reside, being able to make a phone call from your tablet is also pretty damned handy, especially when your phone is tethered to the wall. Thankfully, that's not the only thing the Honor Pad 2 brings to the table as it's a solid slate with respectable specifications.
Huawei opted for an 8-inch panel on the Honor Pad 2 and it will be of the IPS variety with a resolution of 1920 x 1200. Beneath the glass, you will find an octa-core Snapdragon 616 and 3GB of RAM, while the storage capacity comes in two different flavors. You can choose 16GB or 32GB although both allow you to expand your horizons up to 128GB through a microSD card slot.
Tablets generally don't have good cameras, this is a fact. While we don't know how the Honor Pad 2's rear camera will perform, it's larger than most at 8MP and also sports an LED flash. The front-facing camera is 2MP but will still get the job done. As mentioned, the Honor Pad 2 will have 4G LTE with voice-calling capabilities to go along with Bluetooth 4.1, GPS/GLONASS and Wi-Fi.
We don't know the overall dimensions of the Honor Pad 2, but it looks to be fairly svelte. It also looks like a giant-sized handset from the Honor lineup, which isn't a bad thing if you dig the company's style. At the moment, this one comes with Android 6.0 out of the box and Emotion UI 4.1 tacked on. The battery is listed at 4,800mAh. Given the Honor Pad 2 specifications and the timing of the release, it wouldn't surprise us to see this one get Nougat 7.0 down the road.
There has been no word on an international launch for the Honor Pad 2, but it will be available in China in Gold and White with a starting price of 999 Yuan, which shakes out to around $150. That's for the 3GB Wi-Fi model as the 32GB model will set you back $190. As for the 4G LTE version, it only comes with 32GB of storage and carries a price tag of $220. The tablet will go up for pre-order on October 19th ahead of a release on the 25th.