T-Mobile Refunds You $325 If You Bring your Google Pixel to Their Network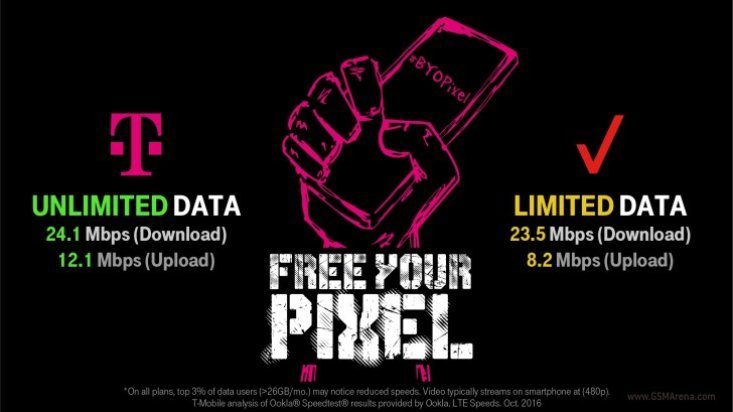 The Google Pixel smartphones were announced as Verizon exclusives, but that doesn't mean you can stop the invisible hand of the free market. Yesterday, T-Mobile's CEO teased the public about a big announcement which was to be made very soon with regard to the Google Pixel and the Google Pixel XL. And today we've just got word about the specifics.
The idea is very simple: if you're a Google Pixel/Google Pixel XL owner and you bring it on T-Mobile, even if you bought it from somewhere else, the company is making an offer which comes directly from the Godfather movie, i.e. it's so good, you can't refuse it. So, even if you bought your Google Pixel from Verizon  and you choose to port your number on T-Mobile, you'll get back half of what you've paid for. That translates into $325 which are to be returned to you in twenty four monthly installments. But, you'll have to sign up to T-Mobile's Magenta One, which is an unlimited plan, that's all there is to do from your part.
Obviously, you'll have to be the owner of an unlocked Google Pixel/XL and if that's the case, starting from tomorrow, October 28th, you can hook up with T-Mobile and start cashing in kickbacks. Every month, you'll discover a $13,55 credit added to your monthly bill for the next 2 years, to the tune of $325. As I already told you, the Magenta One provides unlimited data, calls and texts, while unlimited video-streams are capped at 480p resolution. If you want HD streaming, you'll have to sign up for the One Plus plan or go for a temporary HD Day Pass.
With this cool offer, T-Mobile wants to emphasize the fact that the Google Pixel is not actually a Verizon exclusive and that's obvious considering the fact that  the Google Pixel smartphones which are acquired from Verizon are not actually locked, meaning that you can use them wherever your want.