How About a Star Wars Smartphone by Sharp?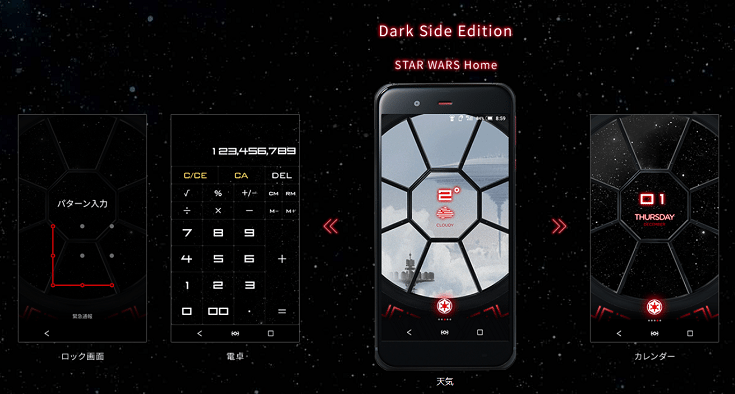 If the force runs strong in your family, what do you think about a Star Wars Smartphone? This is not a joke, as Sharp is manufacturing a Star Wars Smartphone which is currently offered by the Japanese carrier SoftBank (a Sprint company) to its subscribers. Unfortunately, the Star Wars Smartphone is only available in Japan for now, but I have a feeling that the fans of the Force in the  US (and elsewhere) will be able to put their greedy little hands on this baby soon.
There are two models to choose from, obviously: one for the Dark Side and another one for the Light Side of the Force. There's also a "free" app that comes with the Star Wars Smartphone. The app will allow you to watch The Force Awakens for an unlimited number of times, for free that is, provided you have the stomach for it until 2019, December 1st.
As per the tech specs, this interesting smartphone boasts a 5.3" IGZO display of full HD 1080p resolution and it runs on a Qualcomm Snapdragon 820 system on chip, together with an Adreno 530 GPU, 3 GB of RAM and 32 GB of native storage capacity. There's also a micro SD card expansion slot, a 22.6 MP main snapper, IP 68 certification but the Light Saber in the retail package is missing unfortunately, though the price tag would require one or at least a blaster. There are some extra goodies though, like a bunch of metal Star Wars characters in the box whilst the smartphone comes with a special Live wallpaper and a collectible game card installed, plus a TV tuner built in. And speaking of price tags, hold on to your hat, as the Star Wars Smartphone retails for no more and no less than $868.
Considering the fact that what we're dealing with here is a very special smartphone, a collector's item and all that, the hefty price tag is understandable. The Star Wars Smartphone will be released on December 2nd as a Japan exclusive initially but that's going to change soon in this writer's opinion.