Xiaomi Mi 5c specs leak through retail listing
The Xiaomi Mi 5c has leaked plenty of times over the past few months but it appears those may be coming to an end. The Xiaomi Mi 5c specs have leaked again through a new retail listing which means the release date should right around the corner.
We first caught wind of the Xiaomi Mi 5c way back in October when it appeared in a photo. Several Xiaomi Mi 5c specs leaks came soon after along with a potential release date set for the end of November. That didn't come to pass, and at the moment, there has been no official date set for its release. It appears as if TMall may know something the rest of us don't. They have just listed the smartphone on their site with a price tag that you'll want to take lightly.
According to the TMall listing, the smartphone will have 3GB of RAM and an octa-core processor clocked at 2.2GHz. The storage is listed at 32GB although there was mention of a 64GB in a previous leak. Nothing else is mentioned and there are no new photos. Well, aside from a curtain covering the somewhat mysterious handset. If the other Xiaomi Mi 5c spec leaks pan out, we should see a 12MP/8MP camera combo, an octa-core processor, and the usual flagship(ish) bells & whistles.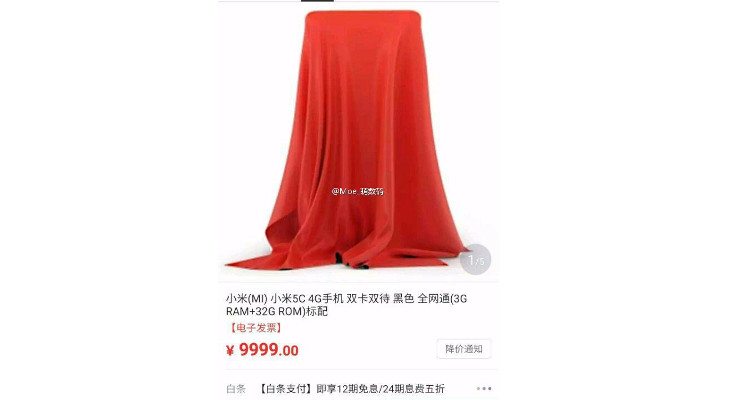 There are still a few areas that are unclear when it comes to the Xiaomi Mi 5c specs. That includes its battery and display size. A few other details could change as well considering we still don't have a clear idea on when it will launch. The Xiaomi Mi 5c price is listed at 9,999 CNY but is expect to be around 1,500 CNY or $216 when it becomes official.
via – GSMarena  source – The AndroidSoul