Xiaomi MIX EVO gets listed with Snapdragon 835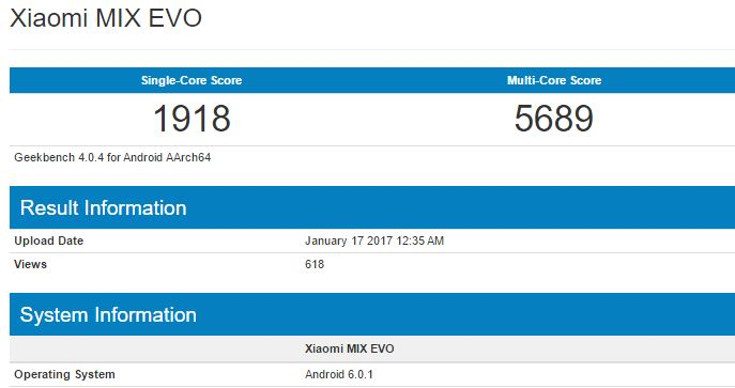 We're going to see a whole lot of Snapdragon chips this year as manufacturers turn to the next-generation of processors for their handsets. The Xiaomi MIX EVO will be one of many to carry the company's top-tier chip, and it's just gotten listed ahead of a formal announcement.
When it comes to innovation, Xiaomi is a fun company to watch. While their smartphones still are not easy to acquire in the West, they have produced plenty of handsets that make us wish they would make the jump. The Xiaomi Mi Mix was one such device, and the Xiaomi MIX EVO could be another. The design of the EVO is still very much up in the air, but we do know it will be quite powerful.
The Xiaomi MIX EVO has mysteriously appeared on Geekbench. Listings from that site never give us too many details, but we do have a good idea of what to expect from the Xiaomi MIX EVO specifications. The device is shown to sport the Snapdragon 835 alongside 4GB of RAM. That means it is in the flagship class although the 4GB of RAM could be a "base" variant considering 6GB will be the trend in 2017. It will also be the second handset from the company to sport the new chip along with the Xiaomi Mi 6.
As for the Mi 6, it was in the news today as well. A new leak suggests the Xiaomi Mi 6 price will begin at around $290, but the handset with the SD835 will start at $365. That gives us a rough idea of what the Xiaomi MIX EVO price might be although the display will play a large part in that equation. If it's QHD, it's going to be more expensive than an FHD panel regardless of the RAM or storage. The only other detail on the Xiaomi MIX EVO listing would be the OS, which is shown to be Android 6.0.1 oddly enough.
At this time, there are more questions than answers with the Xiaomi MIX EVO. We know it will be either a strong mid-range handset or in the flagship range. It should have a fingerprint scanner and all the usual bells & whistles, but the real question lies in the design as it does have the "MIX" moniker attached. Needless to say, we'll keep you in the loop as more details surface on this handset.