Official Apocalypse Now video game hits Kickstarter seeking Funding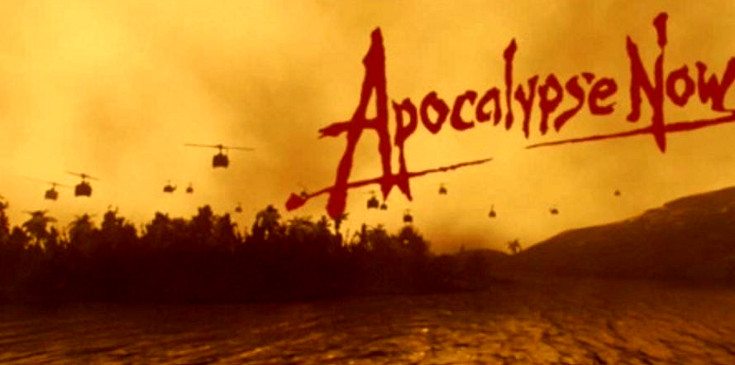 Most of the time we stick to mobiles here on site, but occasionally something intriguing comes along to make us break form. An Apocalypse Now video game would certainly do the trick, and that is what the world will get if Mr. Coppola and his team has their way.
We have seen some interesting concepts arise from Kickstarter over the years. We have covered plenty of them from the mobile realm, but there are far more video games getting kick started than gadgets. If you think the Apocalypse Now video game is going to be a cheap knock-off, don't sweat it as the man himself has approved this one and there is some major talent behind the gameplay as well. Fallout 4, Witcher, DCU Online and Star wars Galaxy are just a few of the games the designers have worked on.
The Apocalypse Now video game is being billed as an "adaptation" of the film where you step into the shows of Willard as he heads off into the depths of the jungle and madness. It will follow the RPG path where your decisions during the game affect your characters build, and in the end his fate according to the developers. Needless to say, it will be a "trippy" game as they have already mentioned audio and visual distortion which we means they are going to screw with your head.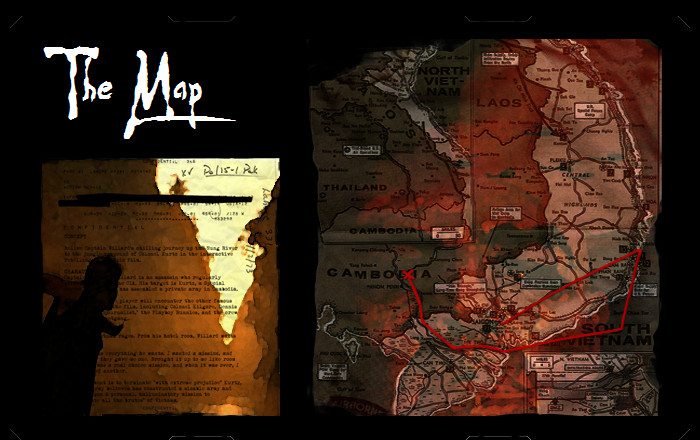 While the game mainly seems to revolve around choices and actions, combat was mentioned as well. We don't expect things to get too wild, but stealth was listed along with the survival horror niche. This could be an interesting combination considering what goes on in the film and what went on in the war. Limited resources will hinder your progress whether you are in the jungle or the boat, so it is not the type of game you can play Rambo style.
This particular film has a massive legion of fans, and we could probably have stopped this article by simply saying the first backing tier is named Roach and showing the photo below. While the Apocalypse Now video game is something most did not see coming, it's one I am personally glad has arrived as it sounds like an intense trip and an interesting play. That said, it's Kickstarter so nothing is a given despite the star power.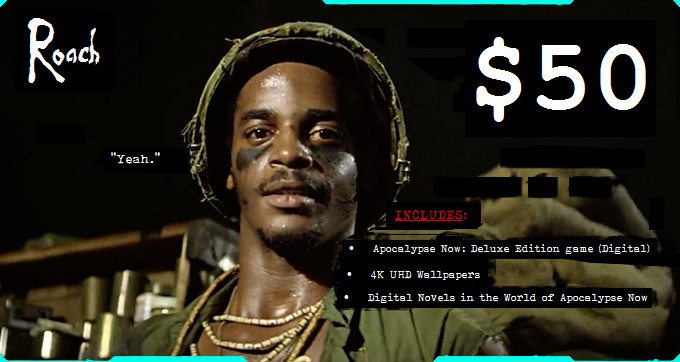 To make the Apocalypse Now video game a reality, they need to hit $900,000 by February 24th. The "Carrie" tier will set you back $35 and get you a digital copy of the game while the Roach level is $50 and comes with the Deluxe Edition, 4K wallpapers and Digital novels from the world. The tiers and rewards keep on going up to $10,000 which lands you access to the Hollywood Premier, an Air Cav surfboard, a tour of Coppola's archives, a personalized NPC and more. The game isn't set to ship out until 2020 if this one is successful, so while there is  a wait, it could be well worth it if you want something unique.
Apocalypse Now Game Kickstarter