ChatRoulette Android App Review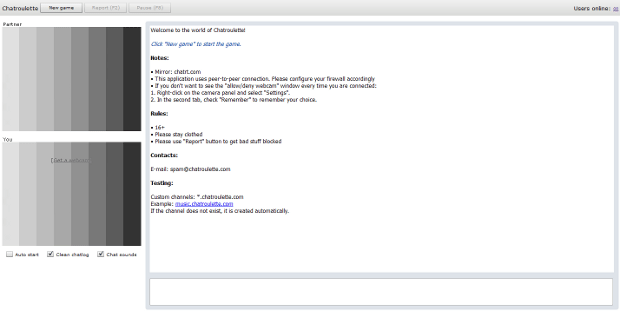 This ChatRoulette Android App Review is unbiased and it is based on a set of technical, content, and design criteria. Please keep your comments appropriate. Inappropriate comments will automatically be deleted.
In this digital era, almost everything can be done online. You can connect with real world friends online, even befriend strangers.  There are many few online chat services that help people to connect with random strangers regardless of their geographic location and ChatRoulette Android App is one of them.
What is ChatRoulette Android App?
Though not the first ever chat service to pair up or befriend random strangers, Chatroulette Android did add video zing to the usual random text chats. Created by a Russian school boy, this app was able to connect millions of strangers in random video chats and conversations. Cool eh?
ChatRoulette Android App Review
ChatRoulette Android App's  theme is simple enough. It has a sign in button that randomly connects you with new people around the world.
Despite its decent video quality, it has a large community of users. It is quite often a foray into the pornographic and not a community conducive to meeting new friends.
ChatRoulette Android App's Dirty Details
Upon first glance, it leaves much to be desired aesthetically. It is a simple free video chat app with two webcam windows, and a simple chat interface.
After trying to give the ChatRoulette app the benefit of the doubt with more than a couple of days usage, I am convinced that the app users are not reporting the myriad of flashers who flock to use it, despite warnings against broadcasting sexually explicit content. Chat Roulette seems to be aware as they have announced that do have an image recognition monitoring to help cut down on explicit content.
Without being too graphic, I'd say that one out of every five people I was connected to with on Chat Roulette was willing to flash their private parts at all hours of the day. This makes it extremely unfriendly for teens who might stumble upon the app.
To sum it all up, this mobile app generally attracts a large number of people with baser desires that run counter to meeting new friends for the chance to develop a meaningful relationship.
In my personal tests, most users will connect and disconnect in a matter of three or four seconds. That results in no meaningful interaction at all, and Google must remove this app from any list of valuable social networking apps.
Conclusion
It seems that the users of this app are just looking for fun and sexual gratification. Yeah, there might be other users who venture in that are not looking for this; however, it is highly unlikely that those users remain for long. ChatRoulette app 's only notable area of distinction is its high-quality video and audio connection. If you want to give it a try, you can download the app here.