Zillable – An Innovative Virtual Collaboration Platform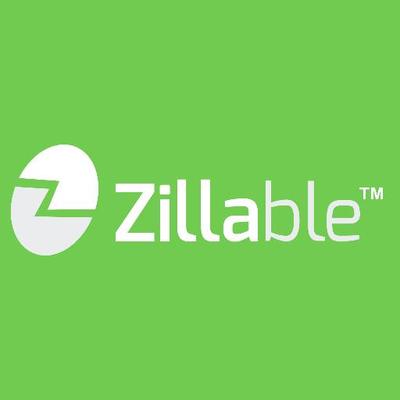 So you've done your research about Zillable and found out about its innovative, people-focused features and you want to try it for yourself. However, you're not sure if it's worth your time and effort, or if your team would be able to adapt to technological changes that moving from one platform to another may present. In that case, here's very good news for you. Getting started with Zillable isn't that hard, unlike any other project management system or virtual collaboration platform that you've previously encountered.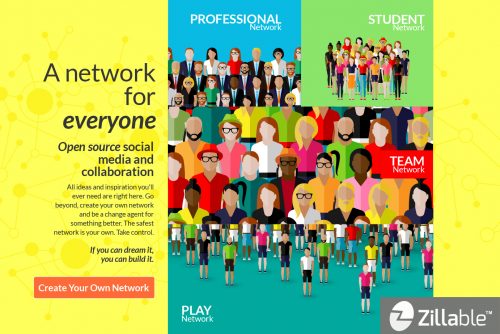 Remember, Zillable is built with the "people" as the focus. It means that the user interface is designed so people can easily adapt, remember, and find their way around the platform. The icons are easily recognizable and it works almost the same as your favorite social media platforms like Facebook or Twitter. One big difference? Zillable is also an online task management tool that allows your teams to collaborate with one another, share their ideas and solutions, track progress for each client and tasks, share documents flawlessly, find and reference conversations easily, and be up-to-date without getting dizzy.
To get started, follow these three simple steps:
Step 1: Signup with Zillable
Using this link https://www.zillable.com/, click the Start Your Team Network button (located at the center of the page) and complete the signup form. You'll only need to input your email and Zillable will send you a confirmation email where you can create your password later.
Step 2: Verify Your Email
Once you've submitted the signup form, go to the email you registered and click the confirmation link provided. You will then be asked to provide your password. Once done, you are now free to explore Zillable. The free version includes the major features, which is essential if you want to experience Zillable's capabilities first before committing to one of the paid plans.
Step 3: Create Your First Space or Board and Explore!
Now that you're already logged in, it's time to explore Zillable and see how you can make it work for your team. The whole registration process won't take more than two (2) minutes of your time. Once you're in, click the Quick Links in the upper left corner. That's where you'll see your Spaces. You can quickly create a Space by clicking the + button, located right beside it.
Spaces provide an easy and transparent venue to collaborate with your teams. You can create multiple Spaces to separate conversations about different topics, clients, or projects. Each Space provides a dedicated area, called Channel Chat where you can view your chats and add to the conversation. In Explore, you can contribute or view all the Ideas, Challenges, and Polls contained within that specific Space. You can even mention a team member to call their attention by just adding the "@" sign and typing their name. It works pretty much the same with Facebook feeds but only more powerful. Spaces also have a feature to filter the feeds to only show posts or comments that mention you, as well as posts that are pinned for the group. You can also use the search button and search by keyword to identify specific conversations lightning fast. Want to save these convos for later? Simply bookmark them and they will be saved to your Notebook.
After completing the three steps above, you'll be able to continue exploring the platform. Try creating Boards and adding Lists. Boards help you organize and assign tasks easily. They also give you a bird's eye view of your progress. Everything is customizable, but it a nutshell, it will pretty much look like this: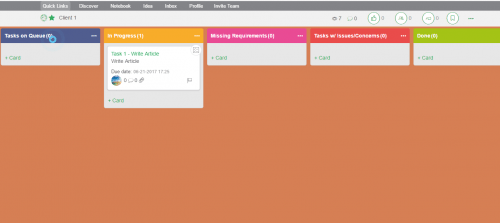 You can drag tasks and move them from one list to another allowing you to monitor its progress closely.
What Makes Zillable, a Virtual Collaboration Platform Different?
The market is flooded with collaboration and productivity tools, so why Zillable? Zillable is a game changer because it brings all the tools you've come to rely on (and then some) on a single platform.
You see, project management is only a single component. It takes more than one project management app, such as a Board or collaboration app to get ahead of your competition. You need a reliable, well-designed, and people-oriented virtual collaboration platform that allows you to knock out multiple tasks in one place, without having to switch from platform to platform or from one tool to another. If you're tired of working with one-off apps that only assist you with completing a portion of your task, check Zillable out. After all, at the end of the day, we need the entire job done, right?