Beesy iPad note app focuses on business planning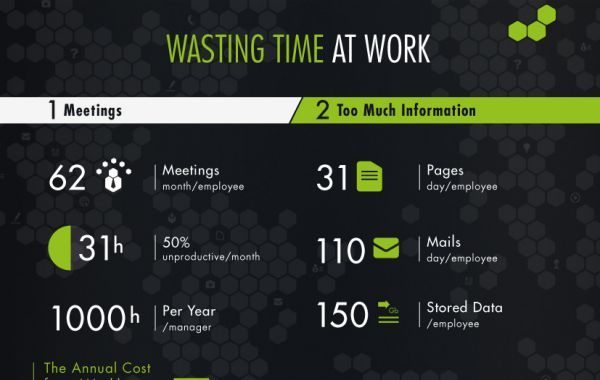 At Phones Review we often offer a look at some of the best productivity apps available on the different marketplace. Two timeless problems of professionals around the world are wasted, which include time, and lack of organization at work. These two factors have a direct impact on the business of a company, a fact, which highlights the necessity of organization tools for work.
Beesy is a business productivity app designed for use by professionals, managers and project managers to specifically aid them to create and structure their business meeting notes.
Beesy addresses 6 main subject of concern for professionals: An All-in-one App to consolidate your information, A fast and smart note taking app, Professional meeting minutes in less than 1 minute, as well as Automated to-do management from these notes, Team management by assigning actions during notes and Priority management by assigning notes to goals and projects.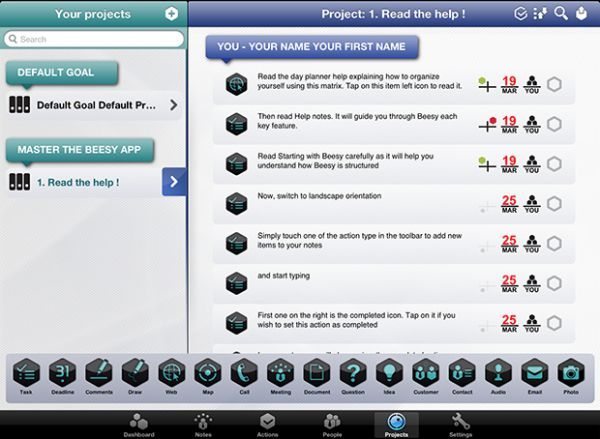 When you start using Beesy, it may look complicated because it has a lot of menus and sections, but actually it is a fairly simple to use. We break it down into four concepts: Notes, Actions, People, and Projects (Goals).
Dashboard view
The Beesy Dashboard view gives you an instant overview of every aspect of the app. On the left side is your calendar, from which you can easily add new events (just like you would in any other calendar app). When you tap on a date, any events show up in the box below the calendar. Every iPad Task app should provide a simple way to visualize the work to be done, focusing on action and not on how many overdue things you still have today. The Dashboard bulk is taken up by the task view, which are organized into those that are important / not important, and urgent / non-urgent. You assign these categories when you create a task and those that are overdue, due today and due this week can sort tasks.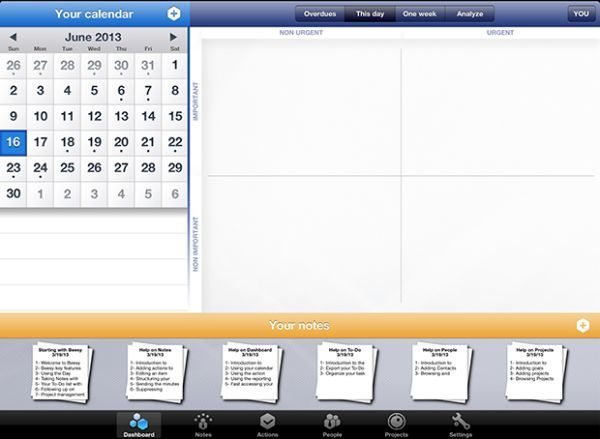 Notes view
Notes can either be assigned to a project or can just sit on their own. During your note, you can choose one of the 16 actions templates by tapping on the action bar that appears at the bottom, organize your note by topics, assigned people for each task and send a meeting minutes in 1 click. Beesy will even allow you to choose the language of an individual note.
More over, you can create notes from your calendar, which is a good way to keep them organized. For example, if you have a meeting on a particular day, your notes will be added to the calendar for the day. You can also add tasks as to-dos, and there are several different ways to view notes, events, and tasks.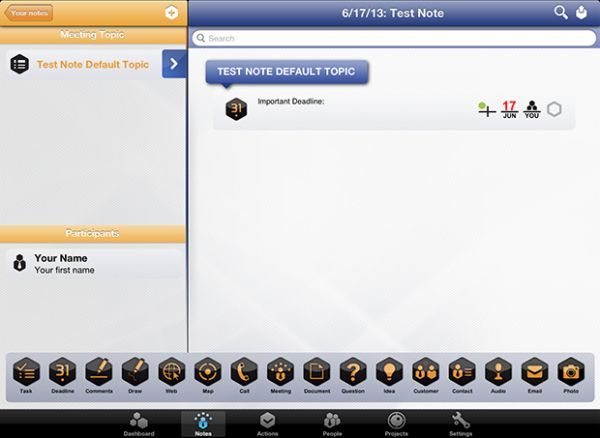 Actions are designed to help you structure your notes and are a quick way to enter different types of information. For example, tap on the task action and it adds in a quick task. Tap on web and open's a web browser. Tap contact, and you can automatically enter the information for a new contact. It's a great time saver.
Actions and People view
In the people and Actions sections, you can view actions that have been assigned to people based on your notes, track their to-do lists, and check out who is working on what with different filters. With Beesy, you can also browse your iPad To-Do by people. Using this view, tasks are by default organized by projects they are actually working on, giving you a simple way to follow-up on someone's targets as well.
Projects view
If you have plenty of projects, you may want to start organize them by goals. Beesy easily gives you the ability to group your iPad Projects for a better understanding of your priorities: just select a goal for your project and make sure you keep track of your targets. Projects and goals can be given a priority on a sliding scale from 1 to 5, which is mirrored across the entire app. Simply assign the right owner to a task and Beesy will handle this for you with no extra work on your side.
With such a feedback, they have been analyzing the key factors of inefficiency at work: too many meetings and the lack of tools are clearly the main reasons that can lead to many lost hours per employee. Fortunately, tablets and productivity apps can help them save up to 30 minutes a day. To clearly demonstrate this, they have designed an infographic – please take a look here.