Nokia 9 rumors!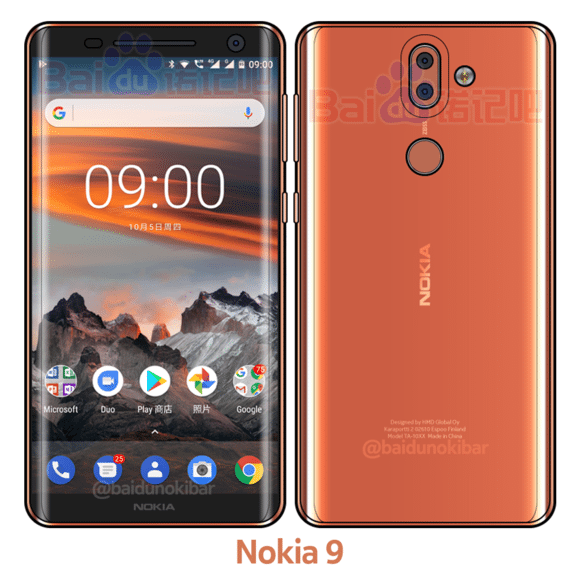 Nokia was once the leader of mobile phones across the planet. Highly recognizable for their durability, it was one of the most successful companies of the 2000s. That success staled when competitors like Samsung and Apple began their offensive in the smartphone world. After Microsoft's try at utilizing the Nokia brand in their Windows Phone devices, the company was sold to HMD Global. Since then, they are trying to enter the smartphone world anew, utilizing the Android operating system and offering decent specs for a reasonable price. After the Nokia 3, 5, 6 and 8, we now have some leaks for the upcoming Nokia 9!
Specifications
The Nokia 9 is supposed to be the company's flagship competitor to the Samsung Galaxy S8 and the iPhone 8. That can be assumed from the processor that will power the device – the Snapdragon 835. Aside from that, it will feature 4GB RAM and 64 or 128 GB of storage. Unfortunately, the storage will most likely not be expandable, but it should be enough for all the regular users. It will feature a 5.30" display, with a resolution of 1440×2560 pixels. It might feature a OLED panel for brighter and more saturated colors, but we will have to wait until the official announcement. All of these will be powered by the giant 3800mAh battery, more than enough to last you through the day.
Cameras
The cameras on the Nokia 9 will follow the trend of dual lens smartphones. Both will be at 13MP with f/2.0. They will have optical image stabilization, and a dual – tone flash. Aside from that, the Nokia 9 will feature Carl Zeiss optics, continuing the long tradition. This camera will be good for videographers too, as it can shoot 2160p videos at 30fps. On the front side, there will also be a 13MP camera with f/2.0. It will most likely be wide-angle, but nevertheless, selfie – addicts will love it.
Pricing and availability
While there is still no rumored release or announce date, the Nokia 9 might retail at about 750 Euros. Considering the hardware, Android 8.0, the fingerprint sensor and IP68 certification, it is suitably priced.
The Nokia brand slowly, but surely is coming back in our lives. The Nokia 3 and 6 are gaining the hearts of the public, and the Nokia 9 might be the best offering for the true Nokia fans.
What do you think about the rumors regarding Nokia 9? I'm waiting for your opinions in the comments below.