Hulger VoIP Phone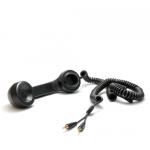 Have you always been one of those who like the old fashion look when it comes to electronics and things? If so you will love this fantastic VoIP phone from Hulger, the handset looks just like an old fashion phone receiver.
All you have to do is plug it in to your PC or PDA install Skype and you're away, old meets new.
You can also use an adaptor to plug the phone in to any mobile as well, which I feel is just a novelty.
Features Include
· When you use the Hulger P*Phone with your mobile you reduce the radiation exposure by up to 95%reduces radiation exposure from cell phones by around 95%
· To allow for hand free use with a mobile phone the shape of the receiver fits between the shoulder and head very snug.
· Very easy to set up and use and comes in four different colours, there's black, pink, red and white.