Panasonic VS6 Mobile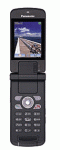 To look at this phone you would think its boring and not got a lot going for it, but at the second look you are getting a very good mobile with its jam packed features such as the 2.2 inch high resolution screen at 320×240 pixel display and with an amazing 16 million colours (oh yeahhh).
The memory on the Panasonic VS6 is just a mere 32 mega bytes, it has a 2 mega pixel camera plus video recorder, there's many phones better than this but for the cheap price its got to be the best in value wouldn't you agree. It has an MP3 player, 3D games and Bluetooth.
Features/Specs —
– Weighs only 101 grams
– Infrared and Bluetooth
– Sonic the hedgehog game in 3D plus football
– Java
– GPRS
– SMS and MMS
– 40 polyphonic ring tones
– 5 times digital zoom with photo editor
– Size is just 96x46x21mm
– Up to 8 hours talk time
– Triband