Exclusive for Vodafone The Sony Ericsson V630i Phone
The V630i multimedia mobile phone from Sony Ericsson that is exclusively for Vodafone and boy what a phone, Sony Ericsson seem to be pulling phone after phone out of the bag and with great success to add. So why is this handset so good, well lets begin shall we my fellow friends.
The support of Vodafone's new Radio DJ service which is a fantastic interactive music streaming service that let's you create your own music channels by rating tracks as and when you listen to them. You can buy the tracks directly using the service plus with the memory stick (256MB Mico (M2) card, which allows you to store approx 230 tracks.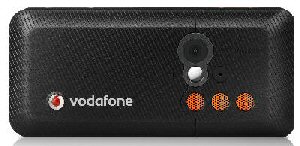 Vodafone Live have great services such as mobile TV, video messaging and video telephony. The sound on this mobile phone is very good and all your friends will envy you trust us. The design of the V630i is pure sleek, sexy and highly fashionable looking to say the least.
This phone is designed to make you happy; the V630i has great menus and a 5 way navigation key. It also has a 1.9 inch 262K-colour TFT screen for the optimal messaging and Web browsing experience.
The Sony Ericsson has a 2 megapixel camera with digital zoom and so many other features which are shown below.
– Vodafone Radio DJ
– Music player (with MP3, AAC, AAC+, eAAC+ support)
– Full streaming Audio and Video
– Java MIDP 2.0
– Phone speaker
– 3D games
– Music DJ
– Polyphonic 64 ring tones
– SE Video DJ
– SE Picture DJ
– Mobile TV on Vodafone live! with oh yeah 3G
– Stereo headset
– VGA Video Telephony camera
– 176×220 pixels, TFT 1.9 inch
– 2.0 Megapixel camera with 2x digital zoom
– 262k Color display
– Video recording and playback
– Consumer push email
– QuickShare
– Instant Messaging
– Bluetooth
– 256MB M2 card
– SMS and MMS
– USB 2.0 Mass storage FS
– USB charging
– USB cable
– Flight mode
– HTML Full Browser that has RSS
– External antenna connector
– 91 g
– 102 x 45.7 x 16.9 mm
Do you love this phone from Sony Ericsson? Let us know how you feel about the V630i by leaving your comments in the box provided below.