The Elegant Vertu Signature 2006 Phone
This is a beautifully crafted piece of workmanship that should be in a museum, this is just pure heaven to look at, for example the sleek lines and styling to the light that bounces of every angle. These phones are very exclusive and pretty expensive but you are getting class for your money.
The Vertu Signature 2006 phone is assembled purely by hand and of which has 404 components and of which 96 yes 96 inspections to make this the phone of beauty, these mobile phones can come in either stainless steel, 18 carat yellow gold, white gold, platinum or encrusted diamonds.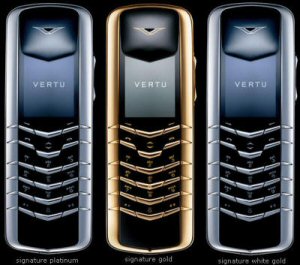 The polyphonic sound is truly amazing as well which is enhanced by the Yamaha synthesizer, these phones are luxury at their best.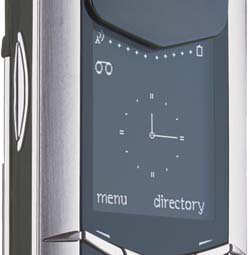 Features/Specs —
– GSM 900 / GSM 1900
– 122 x 42 x 15.5 mm
– 173 g – 215 g dependant on what style you have
– TFD, 4096 colors (display)
– Scratch resistant sapphire display face
– Vibration
– Polyphonic ringtones
– Phonebook – 1000 entries
– 220 calendar notes
– 100 SMS
– Games
– English, French, Italian, German, Spanish, Chinese languages
– Handsfree
– T9
– Standard battery, 950 mAh
– Up to 200 hours standby time
– Up to 8 hour talk time
The prices of these phones can go into the thousands but you do get the best craftsmanship in the world.