The Sexy Siemens CL75 Poppy Phone
Now talk about adding a little bit of feminine to a mobile phone, ladies we are sure you will love this phone as it is very stylish indeed with the gorgeous poppy flower printed on the front, even you men who like to show your feminine side could and will love this phone. This is a very fashionable flip phone that has that touch of essence and looking at the phone you just want to bring it closer to ones nose to have a smell of the loving poppy.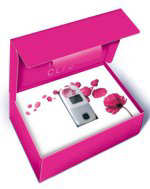 The cool feature is that when you not using the phone you can use the internal display as a mirror apparently (oh yes looking good). The CL75 weighs just 90 grams which come on you will not even notice in your handbag or pocket.

This pink Siemens CL75 Poppy mobile phone comes with a very beautiful and elegant pink box package with the floral poppy motif on it and of which would be an ideal gift seeing as it is boxed already plus comes with a smashing looking accessory which is a solid heart charm
Features/Specs —
– VGA camera with 4 x digital zoom
– Tri- Band, GSM 900 / 1800 / 1900
– SIM Application Toolkit
– silk flower red, pin-striped black colours
– TFT, 128 x 160 pixels, 262,144 colors internal display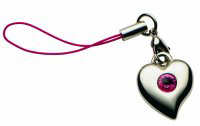 – CSTN, 64 x 96 pixels, 65,536 colors external display
– Reminder list, Alarm, Countdown timer, Stopwatch, Calculator and Currency converter, Organizer, calendar
– SMS messaging
– T9 Intelligent Typing
– Softkey programmable
– Conference call
– Call wait and call hold
– Keypad lock for security
– Display call timer and cost
– Handsfree
– Integrated Software
– Screensaver
– Caller ID
– WAP 2.0 Browser
– Address book and Telephone book of up to 250 entries
– High Speed Data Transfer
– Infrared
– IrDa and USB
– Games include Angels & Clouds plus C´est la vie
This is not a bad little phone; all the ladies will just fall in love with this phone.
Do you like this phone? Please leave comments below…..