Thumb It the New Mobile Phone Game
Thumb It is similar to the rhythm dance games which transfers the gameplay to a mobile phone which works with a 2 thumb gameplay system which also allows the player to press all the keys needed to play the game. This game is very simple to play and does not need a rocket scientist to work it out, if you want to compete in the global rankings which are made available with rumbleX.com services the player of the game must improve on their skills.
OrangePixel are really setting themselves apart from the rest with this game and what a load of fun it is, Thumb It is mainly aimed at those who are superior in text messaging those who love text messaging and this game will be loved by those who love texting.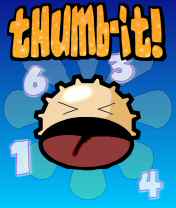 So if you have fast reflexes then Thumb It is the answer. In this game you get great graphics, nice little cute characters which are unlockable plus special bonus awards. So hats of to OrangePixel my friends.
The game is basically played by pressing either 1,3,4 and 6 numbers on your phone in where you have to press them at the right time. You get unique game Concept, Unlockable characters, Fun filled challenging gameplay and World rankings with rumbleX.com.
We have come across 3 places you can go for this game who are getjar, rumbleX.com (which you can get into the rankings) and the main people OrangePixel.