Freedom Mini Bluetooth Mobile Keyboard
This is a superb accessory to have and without a doubt will come in handy, this is a fun little gadget to use and the best thing is the Freedom Mini Bluetooth mobile keyboard is very cheap at around £45. The Freedom Mini Keyboard is very light and very small but still large enough to use comfortably and easily, it is an ideal mobile accessory for PDA phones.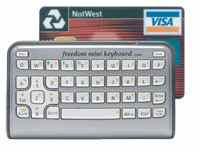 Some mobile phones can clip into the back of the mini keyboard as well which makes the ever so loved service of text messaging so much easier and quicker. The keyboard has 38 well laid out and designed keys and of which can be used for mobile gaming.
Another cool feature is that you can have the keyboard backlight on which is great for dull and dark places.
Why Phones review loves this product —
– No wires to connect
– Superb Bluetooth Connection
– Symbian, Palm, BlackBerry, Pocket PC & SmartPhone
– Ultra compact mini keyboard
– Only 101mm x 60.4mm x 16mm
– Gives PDA's more potential
– QWERTY keyboard layout with 39 keys and 4-way game pad control
– Shortcuts and programmable keys
– LED for wireless connection status
– Power On/Off key
– Uses 2 AAA batteries
– 120hrs of continuous use
– 1000hrs standby mode
– Auto sleep mode
– Backlight
– Around about £45
You can buy this from either eBay.com and or eBay.co.uk
If you know of any better and cheaper places to buy this product then please let us know?